A somewhat thorough history of baseball cards
(1876-1980)
Old-time legend has it that baseball was developed from the English sports of cricket and rounders. A West Point cadet named Abner Doubleday was once credited with "inventing" the sport around 1839 in Cooperstown, New York. Despite these long-standing myths, neither has held up to scrutiny; there is evidence that "bat and ball" games have existed for centuries and Doubleday never mentioned once in his own personal diaries to have had anything to do with the game. We do know that the first organized baseball game was played in Hoboken, New Jersey in 1847 and that the sport began to flourish after the U.S. Civil War, when Union soldiers played baseball during their encampments. After the war ended in 1865, many of the soldiers took the "New York" style of the game home with them (there were also "Massachusetts," "Philadelphia" and southern "country ball" games, but the "New York" game became the norm). The link to baseball's Civil War roots is most evident in the fact that until the 1960s, every major league team was located in a city that had stayed in the Union.
It is not known who made the first baseball cards. Professional baseball began in 1869, and the National League was formed in 1876. It seems logical that the first cards would have appeared during that same period. A Cincinnati-based sporting goods store called Peck & Snyder issued an advertising card featuring the 1869 Red Stockings that is believed to be the first baseball "card." Other businesses at the time printed business cards featuring baseball situations, but did not feature specific players. "Buck" Duke is credited with the idea of inserting a small cardboard advertisement into packages of cigarettes as a way to make packages more sturdy, but his company featured actors and politicans on its first cards.
---
Old Judge and Other 1800s Cards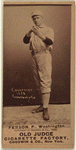 1887 Old Judge Card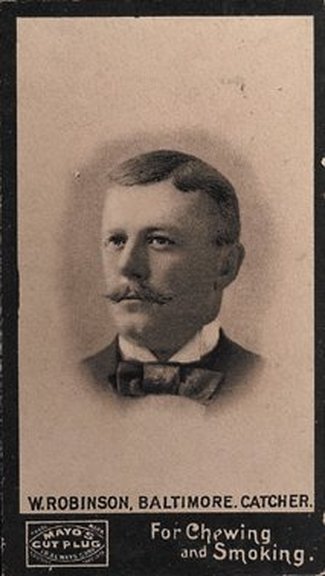 1895 Mayo Cut Plug Wilbert Robinson
The first major set of baseball cards was issued beginning in 1886 by Goodwin & Co. of New York City. The cards produced during this era (Old Judge, Allen & Ginter, and Mayo Cut Plug among them) have been designated "N" cards by the American Card Catalog (ACC); the "N" stands for nineteenth century U.S. tobacco cards. These cards were essentially photos glued to stiff cardboard backing, much like the cartes de viste popular in those days. Some cards featured a player posing in front of a studio-created background with props, with such innovations as an action shot with a baseball suspended on a string (If you look closely, you can even see the string on some cards!). Other sets featured full-color lithographs of the game's top stars.
Baseball cards, long considered a great American hobby, were developed as a result of another great American pastime: capitalism. During this era, there was a fierce competition between American tobacco companies, and Goodwin was among the first to adopt the idea of inserting cards into cigarette packages as a way to increase sales. This practice was so successful that baseball cards were packaged with other products (candy, gum, etc.) for the next century. Other tobacco companies soon followed suit, and after a few years of intense competition, another time-honored American institution came forth: a monopoly. Under the firm hand of "robber baron" Buck Duke, Allen & Ginter, Goodman & Co., W.S. Kimball and others became the American Tobacco Company by 1891. Without competition, there was no longer any need to produce new cards, and the first era of baseball card issues came to an end.
---
The Golden Era (1909-1912)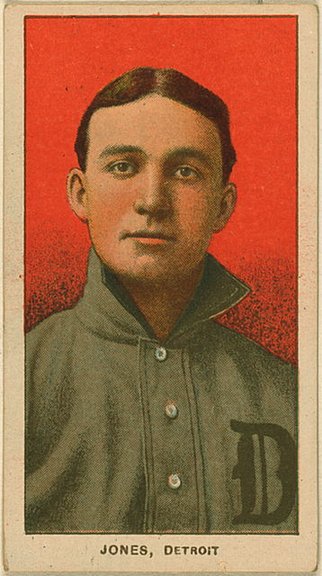 1909-11 T206 David Jones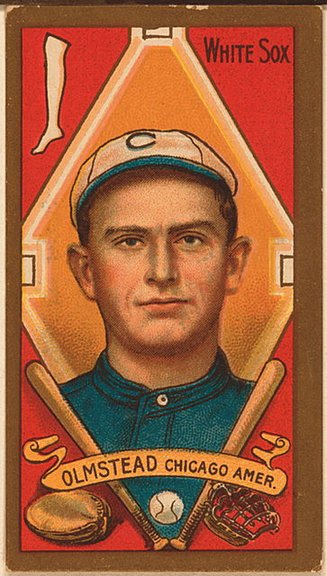 1911 T205 Fred Olmstead
In 1907, the U.S. Government began to wage a court battle to dismantle the American Tobacco Company, stating that it was in violation of the 1890 Sherman Antitrust Act. After three years, Duke began to dismantle his empire; however, competition was lurking around the corner from the Turks. Just before 1910, Turkish tobacco products began to change American smoking habits, and the American Tobacco Co. began to develop baseball cards once again. With all the competition, the years 1909-1912 saw some of the most attractive issues in the hobby's history. The ACC's "T" series cards (T stands for twentieth century tobacco cards) came out during this time and these cards show a great diversity of styles, shapes, and designs. In fact, many innovations seen during this period would not be seen again in baseball cards until the 1950s.
1911 T204 Jesse Burkett
The T206 set, issued between 1909 and 1911 and featuring advertisements for many different cigarette brands under the umbrella of the American Tobacco Company, features color lithographs and has some of the most sought-after cards in the hobby. The set is nearly impossible to complete as a result of having several tough cards. Honus Wagner's card is legendary for its scarcity (see next paragraph); Eddie Plank's card was reportedly limited by a broken printing plate; an error involving the spelling of Sherry Magee's name was corrected, resulting in a highly sought-after error card. Other sets issued at this time were also notable; the T205 set has gold borders and the T204 Ramly set features gold embossed edges and an ornate design.
The T206 Honus Wagner card is probably the most famous in the hobby because even non-collectors know about it, but what is most puzzling is how the card came to become so scarce. Most collectors and hobby historians agree that the card was quickly pulled from the set, but the reason why it was pulled has been the source of a lot of discussion. The story that has been most often perpetuated through the years is that Wagner was opposed to tobacco products and upon discovering that his image was being used to sell cigarettes, insisted that his card be pulled immediately. However, a quick look at Wagner's card from the 1948-49 Leaf set shows him placing a wad of chewing tobacco in his mouth. In addition to that card, some tobacco product advertising pieces have surfaced with Wagner's endorsement. That sinks the anti-tobacco theory; another guess is that Wagner -- one of the sport's biggest names at the time -- had his card pulled because he felt that the American Tobacco people were not paying him enough.
During this era, Turkish-themed cigarette companies (also under the ATC umbrella) also developed cards and introduced some innovative designs in the process. T3 Turkey Reds are huge (8 x 5 ) cabinet-sized cards, which were available through the mail as redemptions rather than in packs. T201 Mecca Double Folders feature two players on each card, while T202 Hassan Triple Folders feature two players and an action scene. By 1913, Camel arrived on the market and announced that they would not issue any type of premium (cards included) in their packs because of the high cost of the tobacco. With the Turks entering into World War One the next year on the side of Germany, the tobacco imports were affected, and the German dyes used in the colorful lithography found on cards started becoming scarce. With its trust broken, the companies spun off from the American Tobacco Company halted production of their cards, and this era abruptly came to an end.
---
Early Candy Issues (1914-1932)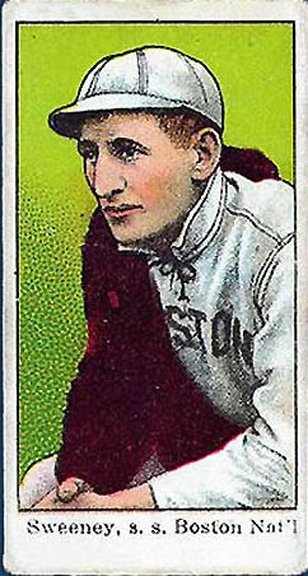 1909 E90-1 Sweeney
During the tobacco card era, a large number of American kids were showing an interest in obtaining cigarette cards from their fathers, uncles, and older brothers who smoked; this fact was quickly noted by candy companies eager for some extra business, and the ACC s "E" series (E stands for early candy issues) was born. While some candy issues predate the "T" card era -- E107 Breisch Williams set came out in 1903 -- and some sets are concurrent (like the E90-1 set), confectioners did not really dominate the baseball card market until after the tobacco companies left the business. Unlike T cards there really wasn't a lot of innovation in card design. Many early E cards share the same white-bordered design as T206, and that similarity has caused some confusion among collectors with little experience.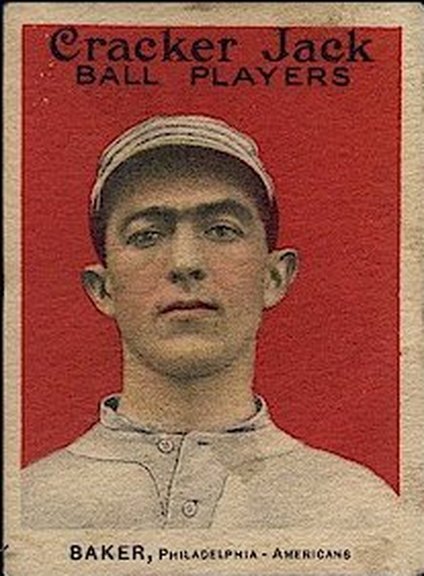 1914 Cracker Jack Frank Baker
Cracker Jack issued sets in 1914 and 1915, which are significant because they are among the only major sets to feature players from a short-lived "third league," the Federal League. After the United States' entry into World War One stopped new card production from 1917-1918 and caused stars like Ty Cobb, Christy Mathewson and Walter Johnson to leave their teams for military service, caramel companies (most notably the American Caramel Co.) and, to a lesser extent, ice cream makers, became the dominant issuers of baseball cards during the 1920s. The colorful, ornate issues of the T series gave way to the black-and-white pictures on thinner paper stock of the E series, the result of a shortage of paper and printing products from the war effort.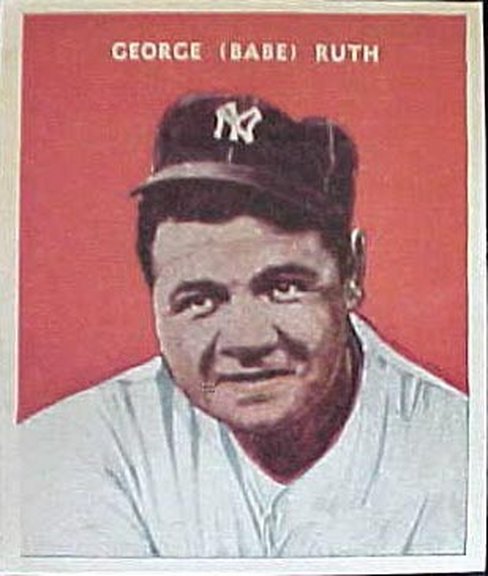 1932 U.S. Caramel Babe Ruth
Due to a lack of well-recognized sets and card quality, this era in baseball history usually gets overlooked by collectors. This is unfortunate, because the 1920s were one of baseball's classic periods. The new development of broadcast radio brought baseball games right into the homes of fans and gave the sport a considerable boost. The decade also saw the emergence of the biggest superstar the sport would ever know when a Red Sox pitcher transitioned to the outfield and was traded to the Yankees. George Herman "Babe" Ruth helped the Yankees to their first World Series in 1921, was a member of the famed "Murderer's Row" that kept the Yankees going back to the Series year after year, and hit more home runs than anybody believed possible. Ruth was great for baseball and especially for fans of the Yankees. His cards were featured in strip card sets, caramel company sets, and even in the 1928 Fro-Joy set, which featured Ruth on every card. However, few collectors have seen any Babe Ruth baseball cards of the 1920s; his most widely recognized cards are 1930s gum cards.
---
Gum Companies Take Over (1933-1941)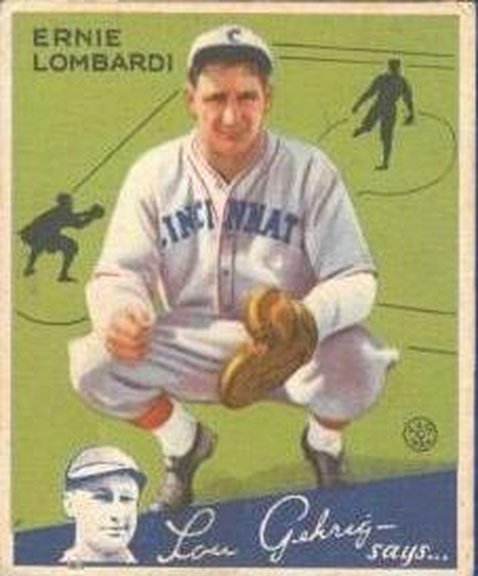 1934 Goudey Ernie Lombardi
Gum was invented in 1928. By the early 1930s, it was a craze among kids and a major new era in card collecting began. Three Boston-based companies, Goudey, George C. Miller Co., and Delong, issued their first sets in 1933, with National Chicle following suit in 1934. These cards were larger than those from earlier eras and, for the first time, featured expanded statistical information on the backs of cards; the advertisements were still there, but relegated to the bottoms of the cards. Goudey s 1933 issue is a classic which features most of the stars of its day -- including 4 Babe Ruth cards -- and one of the hobby's scarcest cards, #106 Napoleon LaJoie (Note: The LaJoie was actually issued in 1934 separately from the rest of the set). 1934 Goudey is memorable for its "Lou Gehrig says" or "Chuck Klein says" motif, while its 1935 issue featured 4 players on each card and 1938's Heads Up featured players with enormous heads on a cartoon body. Delong's 1933 set was its only issue; National Chicle's only major sets -- Diamond Stars and Batter Up (a die-cut issue) -- ran from 1934-36.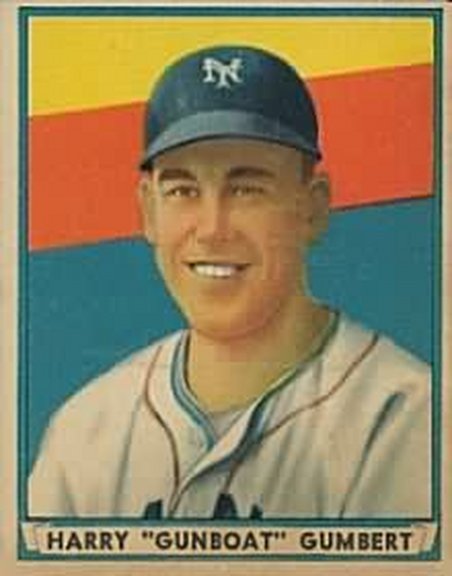 1941 Play Ball Harry Gumbert
The Great Depression seems to have caused a temporary slowdown of the market in the mid-to-late 1930's. Goudey's issues of 1935, 1936 and 1938 were very small (compared to the 240 cards they printed in 1933) and the quality of some of those cards was suspect. In 1937, no company issued a major, nationally-issued set. 1939 saw a new company -- Gum Inc. of Philadelphia, founded by Warren Bowman -- enter the market. Their Play Ball issues of 1939-1941, which improved in quality each year, are still sought after today. By 1941, with Play Ball, Double Play, and Goudey sets being printed, it looked as though a healthy market would once again emerge; however, the U.S. entered World War Two at year's end. The use of paper, cardboard, ink, and other printing supplies, not to mention the gum manufacturing plants, were relegated once again to helping win a war.
---
Post-War issues (1948-1951)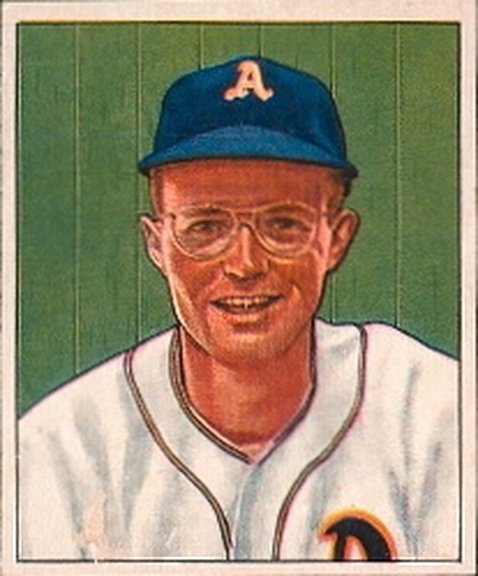 1950 Bowman Bob Dillinger
World War Two ended in 1945, and the major league ballplayers (including Ted Williams, Joe DiMaggio, Bob Feller, Pee Wee Reese, Warren Spahn, Charley Gehringer, Hank Greenberg and many others) who had left for military service began to return to their teams. No new national issues came out during the two years after the war ended, although there were a few regional issues as well as some sets issued by bread makers (one was a set devoted entirely to Jackie Robinson during his first season). In 1948, Gum Inc. -- then known as Bowman -- and Leaf produced small national sets. Neither issue was elaborate; Bowman's 1948 set featured black and white pictures, while Leaf's set featured crude color pictures on poor quality cardboard. In 1949, Leaf continued their 1948 effort, and Bowman improved on its 1948 design by featuring machine-added color pictures.
In 1950, Leaf left the market. That left Bowman alone among national baseball card manufacturers, and their 1950 set is a gem. Their sets from 1950-52 featured bright color paintings, and 1951 saw larger-sized cards. 1951 also saw two new competitors: the Topps Chewing Gum Co. of Brooklyn, New York and Berk Ross. Topps' first effort was not a large one, with two 52-card sets (Red Back and Blue Back), two large-size All-Star sets, and a set of team cards that pictured only nine of the 16 teams then in existence. In 1952, Berk Ross left the baseball card market, but at the same time the competition between Topps and Bowman became intense.
---
Topps and Bowman Go Head-to-Head (1952-1955)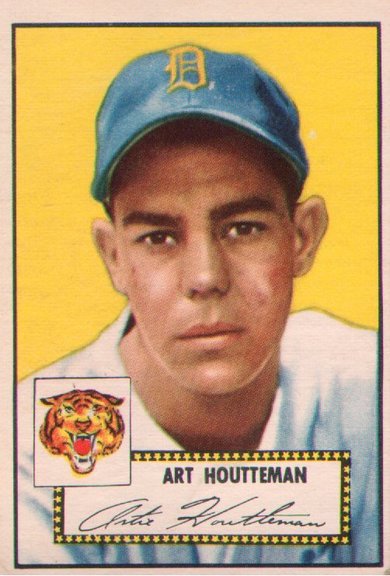 1952 Topps Art Houtteman
The 1952 Topps set was huge in almost every way. It had 407 cards, larger than any single-year issue to that point. The cards themselves were physically larger than collectors had been used to (some kids in 1952 trimmed their Topps cards with scissors to match the size of their Bowmans). The cards featured a painted picture and used team logos on the front for the first time. The set features the first Topps cards of Mickey Mantle and Willie Mays, and the rookie cards of Hall of Famers Eddie Mathews and Hoyt Wilhelm, and it is the Mantle card that may be the most sought-after in the hobby. (Mantle's was a double-printed card; there are actually twice as many Mantle cards as there are of Al Dark.)
The set also has such a high degree of scarcity in its high series that some collectors will consider their 1952 set complete at 310 cards. In those days, card manufacturers issued their sets in two or more series to keep collectors buying their product throughout the baseball season. This also allowed card companies to feature rookies and show traded players in their new uniforms. In most cases the final series would be issued around the beginning of football season, and merchants were less likely to order cards to sell so late in the season when baseball games were no longer being played. As a result, fewer cards got into circulation, and those final series tend to be scarce when compared to earlier series. In 1952, Topps' final series has become legendary for its scarcity; rumors have circulated that the cards were widely distributed in Canada and that a garbage barge sent many of them to the bottom of the ocean.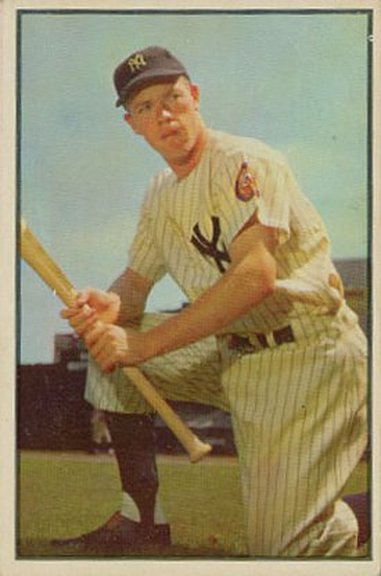 1953 Bowman Gil McDougald
Hobby experts may debate why the 1952 Topps high series is so scarce, but there is little debate that Bowman paid attention. Bowman s 1953 cards were expanded to almost the same size as Topps and featured full-color player photos for the first time (Topps would not regularly use color photos on their cards until 1957). The design was simple, with no name, position or team listed on the front of the card. The backs featured statistics instead of a write-up, similar to the backs Topps had used in 1952. Bowman issued a similar, separate series with black and white photos later in the season because they could not afford to produce more color cards.
Production costs were not the only fatalities of the competition between Topps and Bowman. Both companies tried to get exclusive contracts from top players. Topps did not issue six cards in its 1953 set and dropped four cards from its 1955 set as a result of losing players to Bowman. In 1954, Bowman lost Ted Williams after issuing his card in its set (resulting in a rare, very expensive card), while Topps featured Williams on the first and last cards in its 1954 set. Mickey Mantle was missing from Topps' 1954 and 1955 sets, neither company had Stan Musial from 1954-'57, and Topps had Jackie Robinson beginning in 1952. The competition ended after the 1955 season when Topps bought Bowman out.
Throughout the 1950s, there was much more for baseball card collectors to get excited about. Also noteworthy during this era were the (mostly regional) food issues. Most of these sets were issued as promotional items with hot dogs (Briggs Meats, Wilson Franks, Stahl-Meyer Franks and later Kahn's) or potato chips (Dan-Dee), or even dog food (Red Heart in 1954). The Exhibit Supply Company of Chicago also issued postcard-sized player cards during this era in penny vending machines. Wheaties issued a set in 1952 after a long run of featuring baseball players on its box panels, and cards were once again issued with tobacco: Red Man issued All-Star sets from 1952 through 1955.
Like radio before it, the development of broadcast television during the 1950s helped baseball immensely. Television not only brought the games into the fans' homes, it allowed the kids to see their favorite players in action. The fact that two of baseball's "golden eras" ran concurrently with the advent of radio (1920s) and television (1950s) is probably not a coincidence. Unlike the 1920s, this era also featured a healthy baseball card market. The influence of TV was so evident by 1955 that Bowman's final set was designed to show its players inside a television screen.
---
Years of Topps Dominance (1956-1980)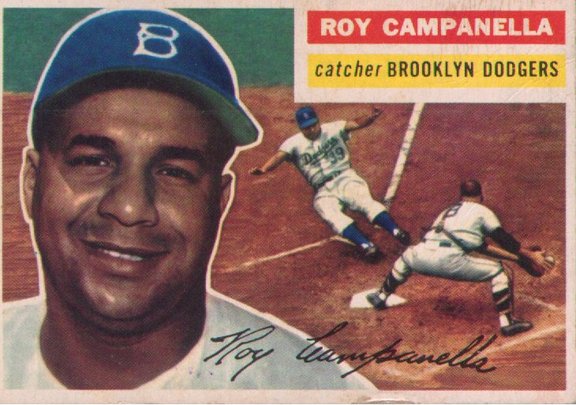 1956 Topps Roy Campanella
After swallowing up their biggest competitor by the 1956 baseball season, Topps was the dominant manufacturer of baseball cards. Aside from a couple of short-lived competitors, they would enjoy a virtual monopoly on the hobby for the next quarter century.
Topps changed the dimensions of its cards when it issued its 1957 baseball card set. The cards were pared down to 2 1/2" by 3 1/2", a standard card size still in use today. Nearly every year, baseball grew and Topps would increase the size of its sets, from 206 in 1955 to over 700 by 1970. Regular-issue team cards arrived in 1956; checklists showed up the same year. Topps issued its first subset featuring the year's All-Star players in 1958. League statistical leaders began to be recognized on cards by the early 1960s. In 1962, Topps featured its "Rookie Parade" subset, and kept multi-player rookie cards for years afterwards.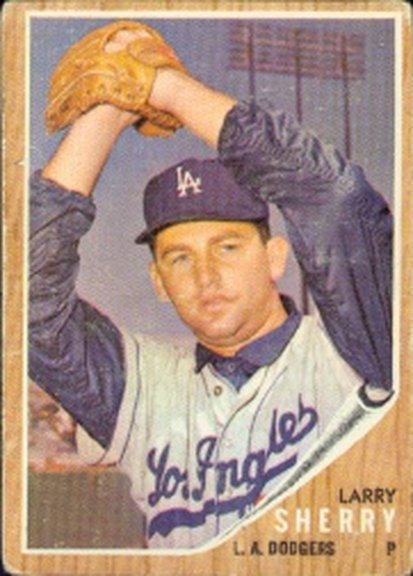 1962 Topps Larry Sherry
Topps saw its first direct competition during this era in 1959, when the Fleer Gum Company of Philadelphia signed Ted Williams to an exclusive contract and then issued a set honoring the slugger. While Leaf, Post and Jell-O issued sets of major league players, Fleer issued sets of old-timers in 1960 and 1961, which competed with Topps but not directly. In 1963, Fleer issued 66 cards of a set of current major league players and sold them with cookies instead of gum; Topps went to court and stopped Fleer from issuing any more cards.
The practice of issuing baseball sets in several series throughout the baseball season ended with the release of Topps' 1974 set, which was issued in its entirety before that baseball season began. For the first time, an entire set could be put together and sold without waiting for the season to end; after this, a hobby began to develop itself and card dealers began to appear. Topps issued its first set of traded cards in 1974, which were distributed with the regular issue cards in packs sold toward the end of the baseball season; this practice would be repeated in 1976. Annual "Traded" sets would arrive in 1981, but only sold by dealers as complete sets.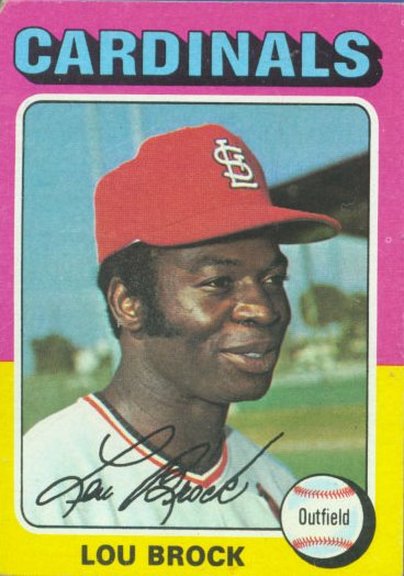 1975 Topps Lou Brock
During the 1970s, Topps maintained their virtual monopoly of national baseball card set distribution. There was a small amount of competition by Hostess and Kellogg's, which included cards in food packages, but Topps had a stranglehold on the hobby. Some collectors have argued that the quality of Topps' sets had begun to decline from the lack of competition (and some sets, especially the 1972 and 1975 designs, were polarizing). In 1976 an upstart company called SSPC began to market a set of current major leaguers which was well-designed. Topps again went to court and halted production of the set. The courts, in a different suit, would eventually rule against Topps in 1980 and allow other companies to compete, later adding a condition that the competitors' cards not be sold with gum. This action effectively ended 25 years of Topps domination.
---
The Effects of Competition (1981 and Beyond)
The first companies to compete with Topps after the court ruling were Fleer and the Donruss company of Memphis, Tennessee. Each introduced a new set in 1981, but it would be a few years before either company could compete with the quality of Topps' cards. By 1984, Fleer and Donruss could each begin to argue that its set was just as good as the one Topps put out. Donruss also began to demonstrate how the laws of supply and demand could affect card values when their 1984-87 issues were placed in a limited distribution at a time when collector interest was beginning to pick up. At the same time, Topps was churning out millions of its own cards, which are much less valuable today.
As the 1980s came to a close, several new innovations began to appear. Player photos on card backs, which were pioneered in the 1971 Topps set and used by Fleer from 1983-85, would show up in color beginning in 1987. Sportflics, with its 3-D technology, appeared in 1986; it was the company's 1987 set that first featured color photos on its backs. Sportflics' parent company launched a new card brand in 1988 with the first Score set. In addition to larger, full-color photos on the card backs, the fronts boasted some of the sharpest player photography yet seen on a baseball card. In 1989, another new company entered the field and forever changed the hobby. Upper Deck issued its first set with many innovations: UV protection, full-color pictures on the card back, an anti-counterfeiting hologram, and an intentional shortage of production, making for a truly high-end set. In addition, Upper Deck brought back a couple of things seemingly lost to time: insert cards and series. Furthermore, they demonstrated that hobbyists would pay more per pack in exchange for higher perceived quality. Within a few years, even Topps was playing by the rules laid down by Upper Deck, and the hobby once again flourished.
Last upated: September 11, 2001
---
---
My own history
Back to main page