1948-49 Leaf
Card #70 - John (Honus) Wagner
---
This set was issued over two years and was probably a great source of frustration for collectors when it was released. The set contains 98 cards in all, but is skip-numbered between 1 and 168. To add to the confusion, exactly half of the cards in the set were short-printed. Finally, because the cards were crudely colored and made of poor-quality cardboard stock, they are difficult to find in higher grades today. As a result, the 1948-49 Leaf set is a challenge to collect and complete.
It is not known exactly why the set is skip-numbered. It may be that the Leaf Gum Company meant to trick its customers into buying more cards; on the other hand, it may have lost a large portion of its player contracts to the competing Bowman Gum Company, which issued a comparatively larger set in 1949. There is also the possibility that they planned to issue more cards but were unable to acquire more players. Since the cards feature 1948 statistics on the backs, it appears that these cards were first printed late in 1948, and instead of issuing two sets (like Bowman did for 1948 and 1949), the set seems to have been extended through the 1949 season. Additionally, cards have either a 1948 or 1949 copyright on the back.
The card design is fairly basic, featuring a player picture against a background (either solid or two-tone) with a white border. The player's name appears at the bottom of the card in a solid-colored box. The pictures were black and white photos which were then machine-colored. Many of the cards were poorly colored in the process, which caused them to look out of focus and often appeared to have color variations. Card backs were also basic in that they feature the same type of biographical information and a brief write-up of the player's career that were usually found on the backs of sports cards of the era. Below the player info is an ad for All-Sart Baseball Gum and an ad for a felt pennant or player photo in exchange for Leaf wrappers. A Leaf copyright runs across the bottom.
There are three acknowledged vaiations in the set. Card #102 of Gene Hermanski can also be found with his last name spelled "Hermansk." Card #136 of Cliff Aberson shows him with his throwing arm extended; his sleeve is either short or all the way down his arm. Finally, card #42 has Kent Peterson wearing either a red cap or a dark cap.
Key cards in this set include Babe Ruth, Joe DiMaggio, Ted Williams, and the rookie cards of Jackie Robinson and Leroy "Satchell" Paige. Ruth's appearance is likely a tribute due to his death in August 1948. Other notable rookies here include Ralph Kiner, George Kell, Larry Doby, Warren Spahn and Enos Slaughter. Some "old-timers" are also present in this set. The card featuring John "Honus" Wagner is puzzling to some collectors who grew up with the legend that Wagner's card was pulled from the T-206 set because he was against the idea of his image being used to help sell tobacco. His card (shown above) features him stuffing a plug of chewing tobacco into his mouth.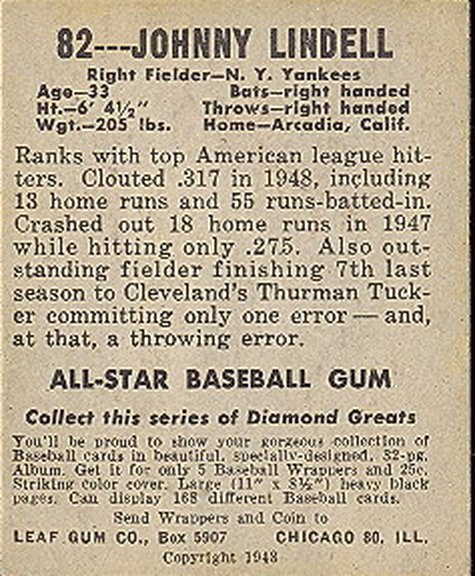 Card #82 - Johnny Lindell (Back)
Comments, corrections or suggestions? email me
Are you looking to buy a card from this set? Click here and Ask Marty!
---
| | |
| --- | --- |
| | |
| 1948-49 Leaf Wrapper | 1948-49 Leaf Wrapper |
1948-49 Leaf:

1. Joe DiMaggio
3. Babe Ruth
4. Stan Musial
5. Virgil Trucks
8. Leroy Paige
10. Paul Trout
11. Phil Rizzuto
13. Casimer Michaels
14. Billy Johnson
17. Frank Overmire
19. John Wyrostek
20. Hank Sauer
22. Al Evans
26. Sam Chapman
27. Mickey Harris
28. Jim Hegan
29. Elmer Valo
30. Bill Goodman
31. Lou Brissie
32. Warren Spahn
33. Harry Lowrey
36. Al Zarilla
38. Ted Kluszewski
39. Ewell Blackwell
42. Kent Peterson
43. Eddie Stevens
45. Ken Keltner
46. Johnny Mize
47. George Vico
48. Johnny Schmitz
49. Del Ennis
50. Dick Wakefield
51. Alvin Dark
53. John Vandermeer
54. Bobby Adams
55. Tommy Henrich
56. Larry Jensen
57. Bob McCall
59. Lucius Appling
61. Jake Early
62. Eddie Joost
63. Barkey McCosky
65. Bob Elliot
66. Orval Grove
68. Ed Miller
70. John Wagner
72. Hank Edwards
73. Pat Seerey
75. Dom DiMaggio
76. Ted Williams
77. Roy Smalley
78. Walter Evers
79. Jackie Robinson
81. George Kurowski
82. Johnny Lindell
83. Bobby Doerr
84. Sid Hudson
85. Dave Philley
86. Ralph Weigel
88. Frank Gustine
91. Ralph Kiner
93. Bob Feller
95. George Stirnweiss
97. Martin Marion
98. Hal Newhouser
102a. Gene Hermansk (incorrect spelling)
102b. Gene Hermanski (correct spelling)
104. Edward Stewart
106. Lou Boudreau
108. Matthew Batts
111. Gerald Priddy
113. Emil Leonard
117. Joe Gordon
120. George Kell
121. John Pesky
123. Clifford Fannin
125. Andy Pafko
127. Enos Slaughter
128. Warren Rosar
129. Kirby Higbe
131. Sid Gordon
133. Tommy Holmes
136a. Cliff Aberson (full sleeve)
136b. Cliff Aberson (short sleeve)
137. Harry Walker
138. Larry Doby
139. Johnny Hopp
142. Danny Murtaugh
143. Dick Sisler
144. Bob Dillinger
146. Harold Reiser
149. Henry Majeski
153. Floyd Baker
158. Harry Brecheen
159. Mizell Platt
160. Bob Scheffing
161. Vernon Stephens
163. Freddy Hutchinson
165. Dale Mitchell
168. Phil Cavaretta

---
Return to Home Page