1934-36 Diamond Stars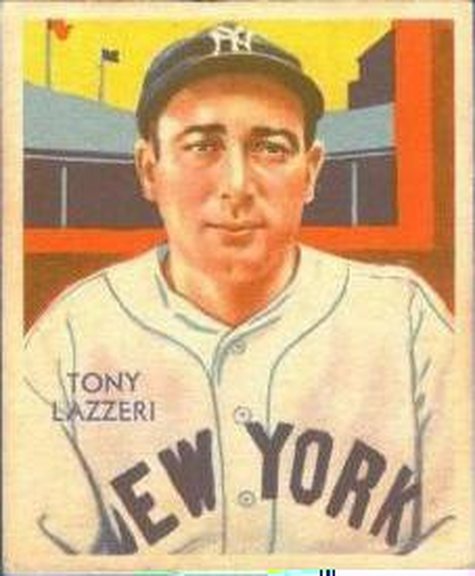 Card #74 - Tony Lazzeri
---
This set, issued by the National Chicle Company of Cambridge, Massachusetts, was distributed over three seasons, along with its sister set, the 1934-36 Batter Up. For a short time, the Diamond Stars became the dominant baseball card issue, as chief competitor Goudey issued inferior sets in 1935 and 1936. Then, no major baseball card set was issued by any company in 1937 (possibly because of the lingering Great Depression).
The cards, like many gum card issues of its era, feature paintings of actual player photos. Diamond Stars stand out from those other issues with their vivid backgrounds in Art Deco style, usually a baseball field or stands, which contrast with the solid backgrounds found on Goudey cards issued around the same time. The player's name is also featured on the card front in black lettering.
Since the cards were issued over a three-year period, there are variations on the card backs in many cases. While the card fronts stayed the same from year to year, the backs changed to notate the year (although the copyright date remained 1934). The backs themselves either feature a player biography or a tip for baseball players. Some backs have either blue or green ink, depending on the year of issue (1934 is green, 1935 is either blue or green and 1936 is blue). The Diamond Stars name and card number dominate the top, while the player's biographical information and an ad appear at the bottom. In the ad, there is a note that the card is one of 240 in the set, but that is erroneous; only 108 cards were eventually printed. Since the set was stretched out over a three year period, it's possible that a 240 card set (matching Goudey's 1933 set size) was planned but they never made it that far.
As Diamond Stars were printed anew each year, some earlier cards were not printed again if the player featured had retired or been sent down to the minors. Cards 1-24 made up the original 1934 issue. For 1935, cards 1-24 were reissued, 25-72 were printed with green backs and 73-84 can be found with either blue or green backs. By 1936, some cards from 1-31 were printed again, along with all cards from 73-84 and the final run, 85-108. These different backs have been a source of frustration to collectors seeking a 168-card master set, but most prefer to obtain a single example of each card.
The set has a run of very scarce high-number cards (#97-108), which feature players already present elsewhere in the set. There are a couple of variations concerning the spelling of Ernie Lombardi and Hank Greenberg's names; they are notated in the checklist below. Artwork for twelve cards that were intended for, but not included in, this set were released in the mid-80's among hobby channels as a collector set. Considered an illegitimate hobby set, those extra dozen cards are not included here.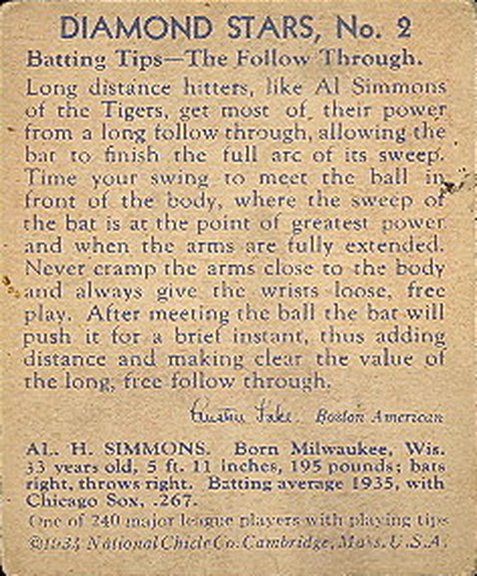 Card #2 - Al Simmons (Back)
Comments, corrections or suggestions? email me
Are you looking to buy a card from this set? Click here and Ask Marty!
---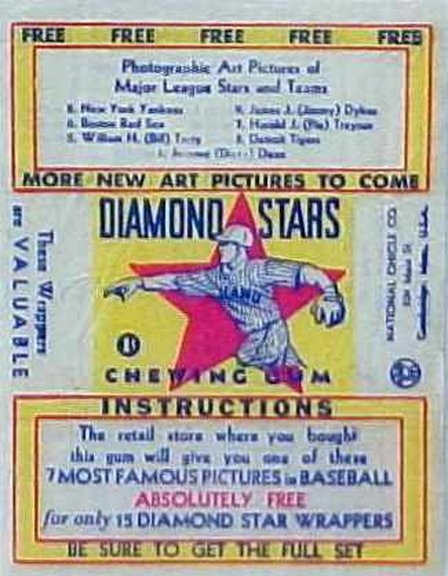 1934-36 Diamond Stars Wrapper
1934-36 Diamond Stars:

1. "Lefty" Grove
2. Al Simmons
3. "Rabbit" Maranville
4. "Buddy" Myer
5. Tom Bridges
6. Max Bishop
7. Lew Fonseca
8. Joe Vosmik
9. "Mickey" Cochrane
10. Roy Mahaffey
11. Bill Dickey
12. "Dixie" Walker
13. George Blaeholder
14. Bill Terry
15. Dick Bartell
16. Lloyd Waner
17. Frankie Frisch
18. "Chick" Hafey
19. Van Mungo
20. "Shanty" Hogan
21. Johnny Vergez
22. Jimmy Wilson
23. Bill Hallahan
24. "Sparky" Adams
25. Walter Berger
26. Pepper Martin
27. "Pie" Traynor
28. "Al" Lopez
29. Robert Rolfe
30. "Heinie" Manush
31. "Kiki" Cuyler
32. Sam Rice
33. "Schoolboy" Rowe
34. Stanley Hack
35. Earl Averill
36a. Earnie Lombardi
36b. Ernie Lombardi
37. "Billie" Urbanski
38. Ben Chapman
39. Carl Hubbell
40. "Blondy" Ryan
41. Harvey Hendrick
42. Jimmie Dykes
43. Ted Lyons
44. Rogers Hornsby
45. "Jo Jo" White
46. "Red" Lucas
47. Cliff Bolton
48. "Rick" Ferrell
49. "Buck" Jordan
50. "Mel" Ott
51. John Whitehead
52. George Stainback
53. Oscar Melillo
54a. "Hank" Greenburg
54b. "Hank" Greenberg
55. Tony Cuccinello
56. "Gus" Suhr
57. "Cy" Blanton
58. Glenn Myatt
59. Jim Bottomley
60. Charley "Red" Ruffing
61. "Billie" Werber
62. Fred M. Frankhouse
63. "Stonewall" Jackson
64. Jimmie Foxx
65. "Zeke" Bonura
66. "Ducky" Medwick
67. Marvin Owen
68. Sam Leslie
69. Earl Grace
70. "Hal" Trotsky
71. "Ossie" Bluege
72. "Tony" Piet
73. "Fritz" Ostermueller
74. Tony Lazzeri
75. Irving Burns
76. Bill Rogell
77. Charlie Gehringer
78. Joe Kuhel
79. Willis Hudlin
80. Louis Chiozza
81. Bill DeLancey
82. John Babich
83. Paul Waner
84. Sam Byrd
85. Julius Solters
86. Frank Crosetti
87. Steve O'Neil
88. Geo. Selkirk
89. Joe Stripp
90. Ray Hayworth
91. Bucky Harris
92. Ethan Allen
93. Alvin Crowder
94. Wes Ferrell
95. Luke Appling
96. Lew Riggs
97. "Al" Lopez
98. "Schoolboy" Rowe
99. "Pie" Traynor
100. Earle Averill
101. Dick Bartell
102. Van Mungo
103. Bill Dickey
104. Robert Rolfe
105. "Ernie" Lombardi
106. "Red" Lucas
107. Stanley Hack
108. Walter Berger

---
Return to Home Page