1934-36 Batter Up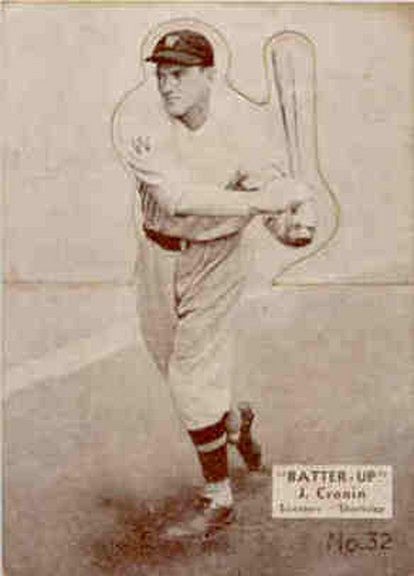 Card #32 - Joe Cronin
---
Issued by the National Chicle Company during the same three-year period as 1934-36 Diamond Stars, the Batter Up set featured a different design among baseball cards: a die-cut action shot. The card was die-cut around the player's picture on the top half of the card and perforated in the middle. The card's remaining upper half could then be folded over to allow the card to stand on its own. While not the first set to use die-cuts, the idea would be reused occasionally through the years.
The design of this set was fairly simple. The card front featured an action shot of a player. Though black and white photos make up the card design, they are found with a variety of color tints (blue, green, red, sepia and purple). At the bottom, a box in the corner features the player's last name, team and position beneath the words "BATTER UP". Also in a lower corner, the card number appears to have been written by hand. The card backs in this set are blank.
This set contains two series: Cards 1-80 measure 3 1/4" by 2 3/8". Cards 81-192 add first names to the design, are 1/4 inch narrower and much harder to find. On the whole, this set is loaded with stars and Hall of Famers; however, the main sticking point with the set is its condition. No card in this set is considered complete without its top portion. While cards were designed to be folded over (and some even took the extra step of tearing off the top), those actions only served to decrease their value. While torn or worn cards give lower prices for sellers, buyers who aren't condition conscious can work on the set at a budget until better copies can be located.
While all cards can be picked up in a variety of tints, set collectors generally accumulate one version of each card. Three cards in the high series feature two players each. Wally Moses/Billy Webb, Minter Hayes/Ted Lyons and Ivy Andrews/Jim Bottomley are among the first multiplayer cards, predating Topps -- who placed multiplayer cards in nearly every set from 1957 through 1969 -- by nearly two decades.
Comments, corrections or suggestions? email me
Are you looking to buy a card from this set? Click here and Ask Marty!
---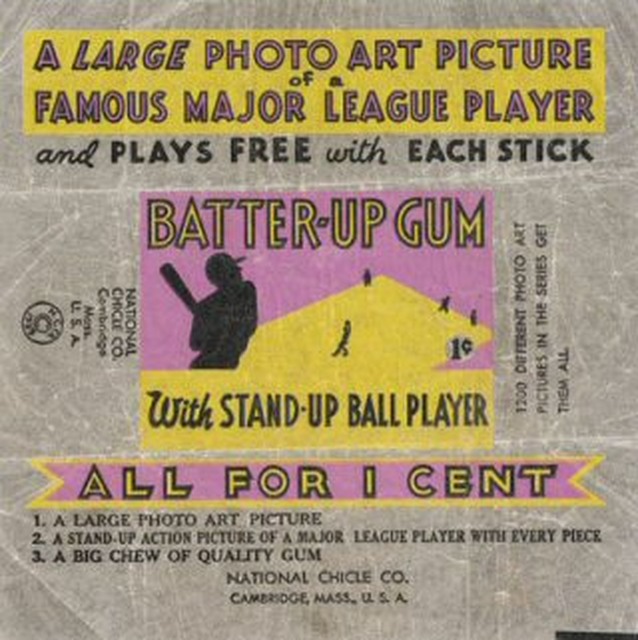 1934-36 Batter Up Wrapper
1934-36 Batter Up:

1. Wally Berger
2. Ed Brandt
3. Al Lopez
4. Dick Bartell
5. Carl Hubbell
6. Bill Terry
7. Pepper Martin
8. Jim Bottomley
9. Tommy Bridges
10. Rick Ferrell
11. Ray Benge
12. Wes Ferrell
13. Bill Cissell
14. Pie Traynor
15. Roy Mahaffey
16. Chick Hafey
17. Lloyd Waner
18. Jack Burns
19. Buddy Myer
20. Bob Johnson
21. Arky Vaughn
22. Red Rolfe
23. Lefty Gomez
24. Earl Averill
25. Mickey Cochrane
26. Van Mungo
27. Mel Ott
28. Jimmie Foxx
29. Jimmy Dykes
30. Bill Dickey
31. Lefty Grove
32. Joe Cronin
33. Frankie Frisch
34. Al Simmons
35. Rogers Hornsby
36. Ted Lyons
37. Rabbit Maranville
38. Jimmy Wilson
39. Willie Kamm
40. Bill Hallahan
41. Gus Suhr
42. Charlie Gehringer
43. Joe Heving
44. Adam Comorosky
45. Tony Lazzeri
46. Sam Leslie
47. Bob Smith
48. Willis Hudlin
49. Carl Reynolds
50. Fred Schulte
51. Cookie Lavagetto
52. Hal Schumacher
53. Doc Cramer
54. Si Johnson
55. Ollie Bejma
56. Sammy Byrd
57. Hank Greenberg
58. Bill Knickerbocker
59. Billy Urbanski
60. Ed Morgan
61. Eric McNair
62. Ben Chapman
63. Roy Johnson
64. Dizzy Dean
65. Zeke Bonura
66. Firpo Marberry
67. Gus Mancuso
68. Jos Vosmik
69. Joe Grace
70. Tony Piet
71. Rollie Hemsley
72. Fred Fitzsimmons
73. Hack Wilson
74. Chick Fullis
75. Fred Frankhouse
76. Ethan Allen
77. Heinie Manush
78. Rip Collins
79. Tony Cuccinello
80. Joe Kuhel
81. Thomas Bridges
82. Clinton Brown
83. Albert Blanche
84. "Boze" Berger
85. Goose Goslin
86. Vernon Gomez
87. Joe Glen
88. "Cy" Blanton
89. Tom Carey
90. Ralph Birkhofer
91. Frank Gabler
92. Dick Coffman
93. Ollie Bejma
94. Leroy Earl Parmalee
95. Carl Reynolds
96. Ben Cantwell
97. Curtis Davis
98. Wallace Moses, Billy Webb
99. Ray Benge
100. "Pie" Traynor
101. Phil Cavaretta
102. "Pep" Young
103. Willis Hudlin
104. Mickey Haslin
105. Oswald Bluege
106. Paul Andrews
107. Edward A. Brandt
108. Dan Taylor
109. Thornton T. Lee
110. Hal Schumacher
111. Minter Hayes, Ted Lyons
112. Odell Hale
113. Earl Averill
114. Italo Chelini
115. Ivy Andrews, Jim Bottomley
116. Bill Walker
117. Bill Dickey
118. Gerald Walker
119. Ted Lyons
120. Elden Aucker
121. Wild Bill Hallahan
122. Freddy Linstrom
123. Oral C. Hildebrand
124. Luke Appling
125. "Pepper" Martin
126. Rick Ferrell
127. Ival Goodman
128. Joe Kuhel
129. Ernest Lombardi
130. Charles Gehringer
131. Van L. Mungo
132. Larry French
133. "Buddy" Myer
134. Mel Harder
135. Augie Galan
136. "Gabby" Hrtnett
137. Stan Hack
138. Billy Herman
139. Bill Jurges
140. Bill Lee
141. "Zeke" Bonura
142. Tony Piet
143. Paul Dean
144. Jimmy Foxx
145. Joe Medwick
146. Rip Collins
147. Melo Almada
148. Allan Cooke
149. Moe Berg
150. Adolph Camilli
151. Oscar Melillo
152. Bruce Campbell
153. Lefty Grove
154. John Murphy
155. Luke Sewell
156. Leo Durocher
157. Lloyd Waner
158. Guy Bush
159. Jimmy Dykes
160. Steve O'Neill
161. Gen. Crowder
162. Joe Cascarella
163. "Bud" Hafey
164. "Gilly" Campbell
165. Ray Hayworth
166. Frank Demaree
167. John Babich
168. Marvin Owen
169. Ralph Kress
170. "Mule" Haas
171. Frank Higgins
172. Walter Berger
173. Frank Frisch
174. Wess Ferrell
175. Pete Fox
176. John Vergez
177. William Rogell
178. "Don" Brennan
179. James Bottomley
180. Travis Jackson
181. Robert Rolfe
182. Frank Crosetti
183. Joe Cronin
184. "Schoolboy" Rowe
185. "Chuck" Klien
186. Lon Warneke
187. Gus Suhr
188. Ben Chapman
189. Clint Brown
190. Paul Derringer
191. John Burns
192. John Broaca

---
Return to Home Page