1956 Topps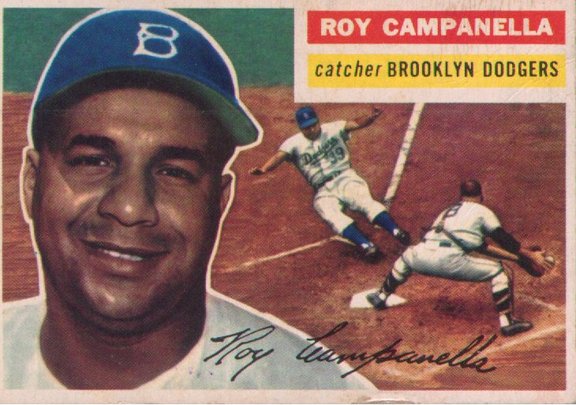 Card #101 - Roy Campanella
---
This was Topps' first set issued after buying Bowman Gum, its main competitor. With the competition gone, Topps was able to release its largest set since 1952; with no more exclusive contracts limiting the company, there are no missing numbers (as in the 1953 and 1955 sets), and all of the era's stars -- except Stan Musial -- are included.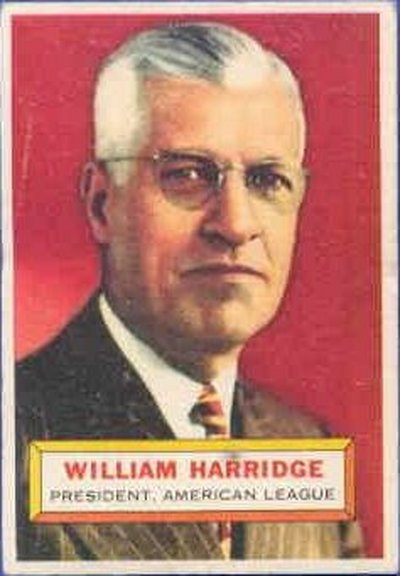 Card #1 - William Harridge
This 340-card set is quite similar in design to the 1955 Topps set, again using a close-up portrait and an "action" picture together on the card front and a horizontal format. The main change to the front is that the player's name, position and team have moved to a more compact box on the upper corner of the card. While the facsimile autograph is again visible on the card front, the background features surrounding action instead of the cropped "posed" shots from 1954 and 1955. These colored "action shots" enhance this set greatly and help make it one of the hobby's best-loved sets. Some player portraits are the same as those used in 1955 and even in 1954. According to legend, Topps only had one part-time photographer on its payroll at the time, and therefore had a limited number of pictures available to use. Due to this, Hank Aaron has the same main picture on his 1954, 1955 and 1956 Topps cards.
Collectors have noted the lack of rookie stars in this set as a negative factor, but if that's the worst thing to say about the 1956 set, it can't be all that bad. Hall of Famer Luis Aparicio has his rookie card, and Walter Alston's first card as a major league manager is here also (he had no mainstream card as a player). Less notable are the first cards of Herb Score and Roger Craig. Besides the glaring absence of Stan Musial, Sal Maglie wasn't featured, and Casey Stengel is conspicuously missing from the managers.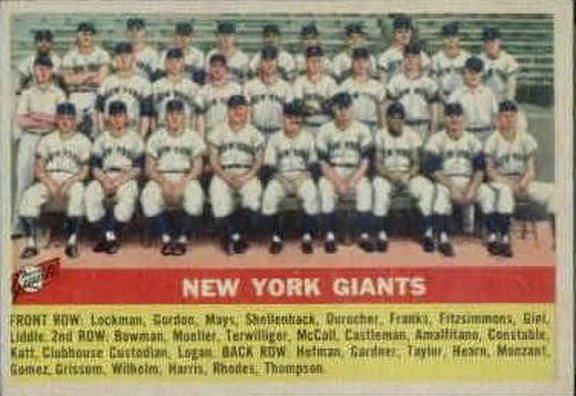 Card #226 - Giants Team
The 1956 Topps set is the first to include team cards as part of the set, and there are two unnumbered checklist cards (which are not considered a part of the complete set). The checklists were quite plentiful in 1956, but most were thrown out by collectors who saw little use in having more than one. Unmarked specimens are scarce and expensive today. Finally, cards of the two league presidents, William Harridge and Warren Giles, start off the set, as cards #1 and #2.
On the card back, there is a three-panel cartoon depicting big moments from the player's career. Biographical information appears above the cartoon and the statistics below. A few team cards have variations on the date, which are explained in the checklist below. Cards numbered 1-180 can be found with either white or gray cardboard; from 1-100, white backs are more common and gray backs are more plentiful from 101-180. The set was issued in four series (1-100, 101-180, 181-260 and 261-340) with 181-260 being considered slightly more scarce, but no truly scarce "high-number" series exists. Cards were printed on 110-card sheets, so each series has several "double printed" cards. Six team cards in the first series have three variations: either they are dated, or not dated with the team name either centered or aligned to the left. The checklist below notes the differences.
Despite the fact that many cards have been found poorly centered, 1956 Topps cards are not as hard to find in high grade as many contemporary 1950s sets. They were made on sturdy cardboard which has helped keep cards in great shape unless they were subjected to some of the harshest treatment that boys of the 1950s could give them (flipping, using in bicycle spokes, etc.). Among the few things that negatively impact their condition is a lower front gloss that sometimes causes scuffing. Their relative ease of completion, quality and lower cost (when compared to other 1950s cards) mixed with an attractive design makes 1956 Topps rank on many hobbyist's "Top 10" lists.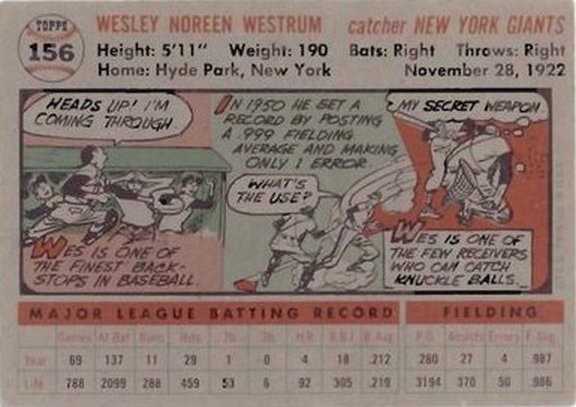 Card #156 - Wes Westrum (Back)
Comments, corrections or suggestions? email me
Are you looking to buy a card from this set? Click here and Ask Marty!
---
| | |
| --- | --- |
| | |
| 1956 Topps 1-cent Wax Pack | 1956 Topps 5-cent Wax Pack |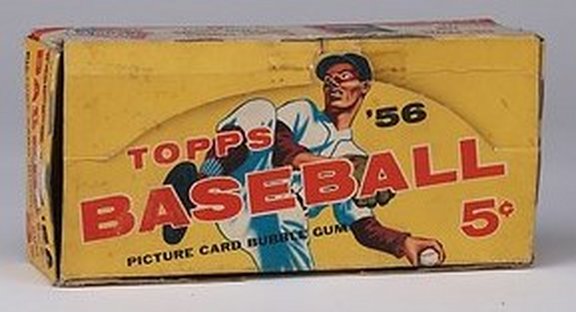 1956 Topps Display Box
1956 Topps:

1. William Harridge
2. Warren Giles
3. Elmer Valo
4. Carlos Paula
5. Ted Williams
6. Ray Boone
7. Ron Negray
8. Walter Alston
9. Ruben Gomez
10. Warren Spahn
11a. Cubs Team (With date)
11b. Cubs Team (No date, name centered)
11c. Cubs Taem (No date, name at left)
12. Andy Carey
13. Roy Face
14. Ken Boyer
15. Ernie Banks
16. Hector Lopez
17. Gene Conley
18. Dick Donovan
19. Chuck Diering
20. Al Kaline
21. Joe Collins
22. Jim Finigan
23. Freddie Marsh
24. Dick Groat
25. Ted Kluszewski
26. Grady Hatton
27. Nelson Burbrink
28. Bobby Hofman
29. Jack Harshman
30. Jackie Robinson
31. Hank Aaron
32. Frank House
33. Roberto Clemente
34. Tom Brewer
35. Al Rosen
36. Rudy Minarcin
37. Alex Grammas
38. Bob Kennedy
39. Don Mossi
40. Bob Turley
41. Hank Sauer
42. Sandy Amoros
43. Ray Moore
44. "Windy" McCall
45. Gus Zernial
46. GeneFreese
47. Art Fowler
48. Jim Hegan
49. Pedro Ramos
50. "Dusty" Rhodes
51. Ernie Oravetz
52. Bob Grim
53. Arnold Portocarrero
54. BobKeegan
55. Wally Moon
56. Dale Long
57. "Duke" Maas
58. Ed Roebuck
59. Jose Santiago 
60. Mayo Smith
61. Bill Skowron
62. Hal Smith
63. Roger Craig
64. Luis Arroyo
65. Johnny O'Brien
66. Bob Speake
67. Vic Power
68. Chuck Stobbs
69. Chuck Tanner
70. Jim Rivera
71. Frank Sullivan
72a. Phillies Team (With date)
72b. Phillies Team (No date, name centered)
72c. Phillies Team (No date, name at left)
73. Wayne Terwilliger
74. Jim King
75. Roy Sievers
76. Ray Crone 
77. Harvey Haddix
78. Herman Wehmeier
79. Sandy Koufax
80. Gus Triandos
81. Wally Westlake
82. Bill Renna
83. Karl Spooner
84. "Babe" Birrer
85a. Indians Team (With date)
85b. Indians Team (No date, name centered)
85c. Indians Team (No date, name at left)
86. Ray Jablonski
87. Dean Stone
88. Johnny Kucks
89. Norm Zauchin
90a. Redlegs Team (With date)
90b. Redlegs Team (No date, name centered)
90c. Redlegs Team (No date, name at left)
91. Gail Harris
92. "Red" Wilson
93. George Susce, Jr.
94. Ronnie Kline
95a. Braves Team (With date)
95b. Braves Team (No date, name centered)
95c. Braves Team (No date, name at left)
96. Bill Tremel
97. Jerry Lynch
98. Camilo Pascual
99. Don Zimmer
100a. Orioles Team (With date)
100b. Orioles Team (No date, name centered)
100c. Orioles Team (No date, name at left)
101. Roy Canpanella
102. Jim Davis
103. Willie Miranda
104. Bob Lennon
105. Al Smith
106. Joe Astroth
107. Ed Mathews
108. Laurin Pepper
109. Enos Slaughter
110. Yogi Berra
111. Red Sox Team
112. Dee Fondy
113. Phil Rizzuto
114. Jim Owens
115. Jackie Jensen
116. Eddie O'Brien
117. Virgil Trucks
118. "Nellie" Fox
119. Larry Jackson
120. Richie Ashburn
121. Pirates Team
122. Willard Nixon
123. Roy McMillan
124. Don Kaiser
125. "Minnie" Minoso
126. Jim Brady
127. Willie Jones
128. Eddie Yost
129. "Jake" Martin
130. Willie Mays 
131. Bob Roselli
132. Bobby Avila
133. Ray Narleski
134. Cardinals Team
135. Mickey Mantle
136. Johnny Logan
137. Al Silvera
138. Johnny Antonelli
139. Tommy Carroll
140. Herb Score
141. Joe Frazier
142. Gene Baker
143. Jim Piersall
144. Leroy Powell
145. Gil Hodges
146. Senators Team
147. Earl Torgeson
148. Al Dark
149. "Dixie" Howell
150. "Duke" Snider
151. "Spook" Jacobs 
152. Billy Hoeft
153. Frank Thomas
154. Dave Pope
155. Harvey Kuenn
156. Wes Westrum
157. Dick Brodowski
158. Wally Post
159. Clint Courtney
160. Billy Pierce
161. Joe DeMaestri
162. "Gus" Bell
163. Gene Woodling
164. Harmon Killebrew
165. "Red" Schoendienst
166. Dodgers Team
167. Harry Dorish
168. Sammy White
169. Bob Nelson
170. Bill Virdon
171. Jim Wilson
172. Frank Torre
173. Johnny Podres
174. Glen Gorbous
175. Del Crandall
176. Alex Kellner
177. Hank Bauer
178. Joe Black
179. Harry Chiti
180. Robin Roberts
181. Billy Martin
182. Paul Minner
183. Stan Lopata
184. Don Bessent
185. Bill Bruton
186. Ron Jackson 
187. Early Wynn
188. White Sox Team
189. Ned Garver
190. Carl Furillo
191. Frank Lary
192. "Smoky" Burgess
193. Wilmer Mizell
194. Monte Irvin
195. George Kell
196. Tom Poholsky
197. Granny Hamner
198. Ed Fitzgerald
199. Hank Thompson
200. Bob Feller
201. "Rip" Repulski
202. Jim Hearn
203. Bill Tuttle
204. Art Swanson
205. "Whitey" Lockman 
206. Erv Palica
207. Jim Small
208. Elston Howard
209. Max Surkont
210. Mike Garcia
211. Murry Dickson
212. Johnny Temple
213. Tigers Team
214. Bob Rush
215. Tommy Byrne
216. Jerry Schoonmaker
217. Billy Klaus
218. Joe Nuxall
219. Lew Burdette
220. Del Ennis
221. Bob Friend
222. Dave Philley
223. Randy Jackson
224. "Bud" Podbielan
225. Gil McDougald
226. Giants Team
227. Russ Meyer
228. "Mickey" Vernon
229. Harry Brecheen
230. "Chico" Carrasquel
231. Bob Hale
232. "Toby" Atwell
233. Carl Erskine
234. "Pete" Runnels
235. Don Newcombe
236. Athletics Team
237. Jose Valdivielso
238. Walt Dropo
239. Harry Simpson
240. "Whitey" Ford
241. Don Mueller
242. Hershell Freeman
243. Sherm Lollar
244. Bob Buhl
245. Billy Goodman
246. Tom Gorman 
247. Bill Sarni
248. Bob Porterfield
249. Johnny Klippstein
250. Larry Doby
251. Yankees Team
252. Vernon Law
253. Irv Noren
254. George Crowe
255. Bob Lemon
256. Tom Hurd
257. Bobby Thompson
258. Art Ditmar
259. Sam Jones
260. "Pee Wee" Reese
261. Bobby Shantz
262. Howie Pollet
263. Bob Miller
264. Ray Monzant
265. Sandy Consuegra 
266. Don Ferrarese
267. Bob Nieman
268. Dale Mitchell
269. Jack Meyer
270. Billy Loes
271. Foster Castleman
272. Danny O'Connell
273. Walker Cooper
274. Frank Baumholtz
275. Jim Greengrass
276. George Zuverink
277. Daryl Spencer
278. Chet Nichols
279. Johnny Groth 
280. Jim Gilliam
281. Art Houtteman
282. Warren Hacker
283. Hal Smith
284. Ike DeLock
285. Eddie Miksis
286. Bill Wight
287. Bobby Adams
288. Bob Cerv
289. Hal Jeffcoat
290. Curt Simmons
291. Frank Kellert
292. Luis Aparicio
293. Stu Miller
294. Ernie Johnson
295. Clem Labine
296. Andy Seminick
297. Bob Skinner
298. Johnny Schmitz
299. Charley Neal
300. Vic Wertz
301. Marv Grissom
302. Eddie Robinson
303. Jim Dyck
304. Frank Malzone
305. Brooks Lawrence
306. Curt Roberts
307. Hoyt Wilhelm
308. "Chuck" Harmon
309. Don Blasingame
310. Steve Gromek
311. Hal Naragon
312. Andy Pafko
313. Gene Stephens
314. Hobie Landrith
315. Milt Bolling
316. Jerry Coleman
317. Al Aber
318. Fred Hatfield
319. Jack Crimian
320. Joe Adcock
321. Jim Konstanty
322. Karl Olson
323. Willard Schmidt
324. "Rocky" Bridges
325. Don Liddle
326. Connie Johnson
327. Bob Wiesler
328. Preston Ward
329. Lou Berberet
330. Jim Busby
331. Dick Hall
332. Don Larsen
333. Rube Walker
334. Bob Miller
335. Don Hoak
336. Ellis Kinder
337. Bobby Morgan
338. Jim Delsing
339. Rance Pless
340. Mickey McDermott

---
Return to Home Page