1955 Topps
Card #129 - Elvin Tappe
---
The 1955 Topps set is the smallest of all regular issue Topps baseball card sets in terms of the total number of cards. It is highly sought-after, though, since it contains rookie cards of Hall-of-Famers Roberto Clemente, Sandy Koufax, and Harmon Killebrew. Some stars, such as Mickey Mantle and Roy Campanella, are absent from this set due to contractual obligations to Bowman; however, there would be no more competition between the two companies after this set (Topps would buy Bowman at the end of the year).
The set marks the first time that Topps used a horizontal format for the entire set. Some 1952 Topps cards were horizontal, but they were occasional exceptions to the design, much like cards found in 1971, '73 and '74 Topps sets. While that format was new, the design was not. They are very similar to 1954 Topps cards to the point that many player pictures appear in both years' sets. The color background of the previous year's set has been slightly altered to a graduated fade to white, while the rest of the card remains similar to the 1954 design. The player portrait is displayed beside an action shot (which is colored this year), and the player's name, position, facsimile autograph and team logo all appear on the card front. Card backs feature the usual biographical and statistical information and player write-up, as well as a cartoon featuring a trivia question. The past year and career stats appear at the bottom.
While Koufax, Clemente and Killebrew are high-demand cards, others in the set are notable. Boston-area legend Harry Agganis is featured on his only baseball card (#152); sadly, he passed away in June '55 due to pneumonia and was one of the "what could've been" stories during the Red Sox' long championship drought. Card #23 shows Jack Parks, shown in his Milwaukee Braves catching gear. He never played a single inning in the majors.
Collectors have debated for years why the set is so small. Some point out that Topps may have been saving some cards for the Double Headers set printed the same year; however, others point out that all 132 players in that set were also included in the 1955 Topps set. While the real reason will most likely never be known, Topps' competition with Bowman was certainly reflected in this set. Although it was slated to be a 210-card set, the 1955 Topps set actually contains 206 cards as card numbers 175, 186, 203 and 209 never were issued. It is generally believed that these numbers represent players that were lost to Bowman.
Cards 161-210 are scarcer than the rest, with cards 151-160 a little tougher than the first 150 in the set. Due to several double-printed cards in the last series to make up for the "missing" players, some high-numbered cards are easier than others. Hall of Famers Willie Mays, Yogi Berra, Phil Rizzuto and Duke Snider are among the high-numbered cards and are valuable. Snider, as the last card in the set, is especially condition-sensitive.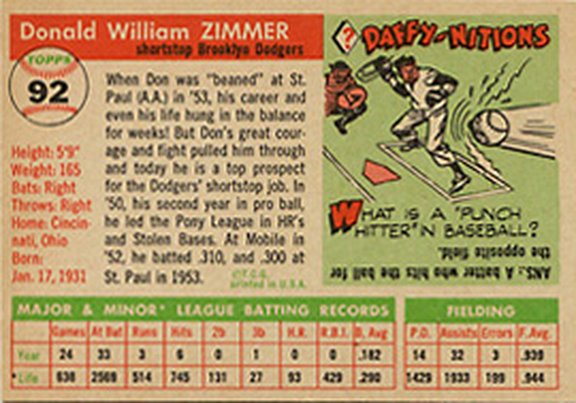 Card #92 - Don Zimmer (Back)
Comments, corrections or suggestions? email me
Are you looking to buy a card from this set? Click here and Ask Marty!
---
| | |
| --- | --- |
| | |
| 1955 Topps 1-cent Wax Pack | 1955 Topps 5-cent Wax Pack |
1955 Topps

1. "Dusty" Rhodes
2. Ted Williams
3. Art Fowler
4. Al Kaline
5. Jim Gilliam
6. Stan Hack
7. Jim Hegan
8. Hal Smith
9. Bob Miller
10. Bob Keegan
11. Ferris Fain
12. "Jake" Thies
13. Fred Marsh
14. Jim Finigan
15. Jim Pendleton
16. Roy Sievers
17. Bobby Hofmen
18. Russ Kemmerer
19. Billy Herman
20. Andy Carey
21. Alex Grammas
22. Bill Skowron
23. Jack Parks
24. Hal Newhouser
25. Johnny Podres
26. Dick Groat
27. Billy Gardner
28. Ernie Banks
29. Herman Wehmeier
30. Vic Power
31. Warren Spahn
32. Ed McGhee
33. Tom Qualters
34. Wayne Terwilliger
35. Dave Jolly
36. Leo Kiely
37. Joe Cunningham
38. Bob Turley
39. Bill Glynn
40. Don Hoak
41. Chuck Stobbs
42. "Windy" McCall
43. Harvey Haddix
44. "Corky" Valentine
45. Hank Sauer
46. Ted Kazanski
47. Hank Aaron
48. Bob Kennedy
49. J.W. Porter
50. Jackie Robinson
51. Jim Hughes
52. Bill Tremel
53. Bill Talylor
54. Lou Limmer
55. "Rip" Repulski
56. Ray Jablonski
57. Billy O'Dell
58. Jim Rivera
59. Gair Allie
60. Dean Stone
61. "Spook" Jacobs
62. Thornton Kipper
63. Joe Collins
64. Gus Triandos
65. Ray Boone
66. Ron Jackson
67. Wally Moon
68. Jim Davis
69. Ed Bailey
70. Al Rosen
71. Ruben Gomez
72. Karl Olson
73. Jack Shepard
74. Bob Borkowski
75. Sandy Amoros
76. Howie Pollett
77. Arnold Portocarrero
78. Gordon Jones
79. Danny Schell
80. Bob Grim
81. Gene Conley
82. Chuck Harmon
83. Tom Brewer
84. Camilo Pascual
85. Don Mossi
86. Bill Wilson
87. Frank House
88. Bob Skinner
89. Joe Frazier
90. Karl Spooner
91. Milt Bolling
92. Don Zimmer
93. Steve Bilko
94. Reno Bertoia
95. Preston Ward
96. Charlie Bishop
97. Carlos Paula
98. Johnny Riddle
99. Frank Leja
100. Monte Irvin
101. Johnny Gray
102. Wally Westlake
103. Charlie White
104. Jack Harshman
105. Chuck Diering
106. Frank Sullivan
107. Curt Roberts
108. "Rube" Walker
109. Ed Lopat
110. Gus Zernial
111. Bob Milliken
112. Nelson King
113. Harry Brecheen
114. Lou Ortiz
115. Ellis Kinder
116. Tom Hurd
117. Mel Roach
118. Bob Purkey
119. Bob Lennon
120. Ted Kluszewski
121. Bill Renna
122. Carl Sawatski
123. Sandy Koufax
124. Harmon Killebrew
125. Ken Boyer
126. Dick Hall
127. Dale Long
128. Ted Lepcio
129. Elvin Tappe
130. Mayo Smith
131. Grady Hatton
132. Bob Trice
133. Dave Hoskins
134. Joe Jay
135. Johnny O'Brien
136. "Bunky" Stewart
137. Harry Elliott
138. Ray Herbert
139. Steve Kraly
140. Mel Parnell
141. Tom Wright
142. Jerry Lynch
143. Dick Schofield
144. Joe Amalfitano
145. Elmer Valo
146. Dick Donovan
147. Laurin Pepper
148. Hal Brown
149. Ray Crone
150. Mike Higgins
151. "Red" Kress
152. Harry Agganis
153. "Bud" Podbeilan
154. Willie Miranda
155. Ed Mathews
156. Joe Black
157. Bob Miller
158. Tom Carroll
159. Johnny Scmitz
160. Ray Narleski
161. Chuck Tanner
162. Joe Coleman
163. Faye Throneberry
164. Roberto Clemente
165. Don Johnson
166. Hank Bauer
167. Tom Casagrande
168. Duane Pillette
169. Bob Oldis
170. Jim Pearce
171. Dick Brodowski
172. Frank Baumholtz
173. Bob Kline
174. Rudy Minarcin
(175.) Not Issued
176. Norm Zauchin
177. Jim Robertson
178. Bobby Adams
179. Jim Bolger
180. Clem Labine
181. Roy McMillam
182. Humberto Robinson
183. Tony Jacobs
184. Harry Perkowski
185. Don Ferrarese
(186.) Not Issued
187. Gil Hodges
188. Charlie Silvera
189. Phil Rizzuto
190. Gene Woodling
191. Ed Stanky
192. Jim Delsing
193. Johnny Sain
194. Willie Mays
195. Ed Roebuck
196. Gale Wade
197. Al Smith
198. Yogi Berra
199. Bert Hamric
200. Jack Jensen
201. Sherm Lollar
202. Jim Owens
(203.) Not Issued
204. Frank Smith
205. Gene Freese
206. Pete Daley
207. Bill Consolo
208. Ray Moore
(209.) Not Issued
210. Duke Snider

---
Return to Home Page