1954 Topps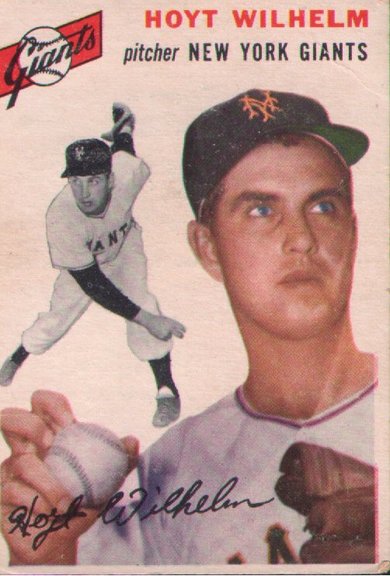 Card #36 - Hoyt Wilhelm
---
The first issue to use two player pictures on the front, the 1954 Topps set is well-designed and widely collected. Four rookie cards of Hall of Famers don't hurt the set, either. At 250 cards, this set is smaller than either of the previous two years' sets, an indication of the stiff competition from Bowman. Mickey Mantle, Roy Campanella and Pee Wee Reese had exclusive contracts with Bowman and are not present in this set; however, there are two Ted Williams cards (the first and last cards of the set) and rookie cards of Hank Aaron, Ernie Banks, Al Kaline, and Tommy Lasorda.
The card fronts are seen today by collectors as a classic, uncluttered design. Solid color backgrounds frame both color head-and-shoulders portrait and black and white action photo of the player. The player's name, position and team logo appear at the top of the card. A facsimile autograph appears on the front of the card for the first time since 1952.
Two things about this set' cards bother some collectors. The white border runs around three edges of the card, but not along the top (unfortunately, my example here features a card with a white background, so this is not on display here), which leads some collectors to feel that the cards have been miscut. When the cards were printed, they were placed on their sheets in a fashion where two cards had the same background color and shared a top border; if you found a miscut card from this set, you would see another player's name at the top, but upside down. The sheet configuration also accounts for the fact that the card backs are incongruous...in almost every other set, when you read the card backs of a stack of cards, the card fronts all are right-side up when you flip the stack over. Not with the 1954 set; about half of the cards would be upside down.
Backs include an "Inside Baseball" cartoon regarding the player as well as the requisite statistics and biography. The set includes manager and coach cards, as well as Topps' first use of two players together on a modern card. The two players (on card #139) were, interestingly enough, Pirate teammates and twin brothers Ed and Johnny O'Brien. Unlike most of Topps' pre-1974 issues, there is no scarce, high-number series in this set. Instead, the "scarce" series consists of cards 51-75; however, "scarce" is a misnomer as the cards aren't scarce in the same way as 1957 Topps mid-series or even 1959 or 1961 Topps high numbers. Cards #1-50 are considered to be the easiest series and 76-250 are only slightly tougher.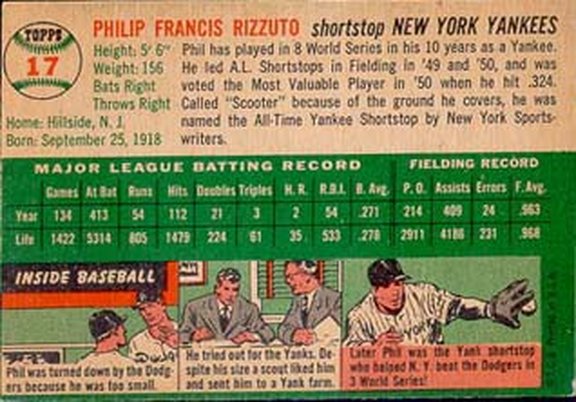 Card #17 - Phil Rizzuto (Back)
Questions, comments or suggestions? email me.
Are you looking to buy a card from this set? Click here and Ask Marty!
---
| | | |
| --- | --- | --- |
| | | |
| 1954 Topps 1-cent Wax Pack | 1954 Topps 5-cent Wax Pack | 1954 Topps Display Box |
1954 Topps

1. Ted Williams
2. Gus Zernial
3. Monte Irvin
4. Hank Sauer
5. Ed Lopat
6. Pete Runnels
7. Ted Kluszewski
8. Bobby Young
9. Harvey Haddix
10. Jackie Robinson
11. Paul Smith
12. Del Crandall
13. Billy Martin
14. Preacher Roe
15. Al Rosen
16. Vic Janowicz
17. Phil Rizzuto
18. Walt Dropo
19. Johnny Lipon
20. Warren Spahn
21. Bobby Shantz
22. Jim Greengrass
23. Luke Easter
24. Granny Hamner
25. Harvey Kuenn
26. Ray Jablonski
27. Ferris Fain
28. Paul Minner
29. Jim Hegan
30. Eddie Mathews
31. Johnny Klippstein
32. Duke Snider
33. Johnny Schmitz
34. Jim Rivera
35. Junior Gilliam
36. Hoyt Wilhelm
37. Whitey Ford
38. Eddie Stanky
39. Sherm Lollar
40. Mel Parnell
41. Willie Jones
42. Don Mueller
43. Dick Groat
44. Ned Garver
45. Richie Ashburn
46. Ken Raffensberger
47. Ellis Kinder
48. Billy Hunter
49. Ray Murray
50. Yogi Berra
51. Johnny Lindell
52. Vic Power
53. Jack Dittmer
54. Vern Stephens
55. Phil Cavaretta
56. Willie Miranda
57. Luis Aloma
58. Bob Wilson
59. Gene Conley
60. Frank Baumholtz
61. Bob Cain
62. Eddie Robinson
63. Johnny Pesky
64. Hank Thompson
65. Bob Smith
66. Ted Lepcio
67. Jim Willis
68. Ted Calderone
69. Bud Podbielan
70. Larry Doby
71. Frank Smith
72. Preston Ward
73. Wayne Terwilliger
74. Bill Taylor
75. Fred Haney
76. Bob Scheffing
77. Ray Boone
78. Ted Kazanski
79. Andy Pafko
80. Jackie Jensen
81. Dave Hoskins
82. Milt Bolling
83. Joe Collins
84. Dick Cole
85. Bob Turley
86. Billy Herman
87. Roy Face
88. Matt Batts
89. Howie Pollett
90. Willie Mays
91. Bob Oldis
92. Wally Westlake
93. Sid Hudson
94. Ernie Banks
95. Hal Rice
96. Charlie Silvera
97. Jerry Lane
98. Joe Black
99. Bob Hofman
100. Bob Keegan
101. Gene Woodling
102. Gil Hodges
103. Jim Lemon
104. Mike Sandlock
105. Andy Carey
106. Dick Kokos
107. Duane Pillette
108. Thornton Kipper
109. Bill Bruton
110. Harry Dorish
111. Jim Delsing
112. Bill renna
113. Bob Boyd
114. Dean Stone
115. Rip Repulski
116. Steve Bilko
117. Solly Hemus
118. Carl Scheib
119. Johnny Antonelli
120. Roy McMillan
121. Clem Labine
122. Johnny Logan
123. Bobby Adams
124. Marion Fricano
125. Harry Perkowski
126. Ben Wade
127. Steve O'Neill
128. Henry Aaron
129. Forrest Jacobs
130. Hank Bauer
131. Reno Bertoia
132. Tom Lasorda
133. Del Baker
134. Cal Hogue
135. Joe Presko
136. Connie Ryan
137. Wally Moon
138. Bob Borkowski
139. Ed & Johnny O'Brien
140. Tom Wright
141. Joe Jay
142. Tom Poholsky
143. Rollie Hemsley
144. Bill Werle
145. Elmer Valo
146. Don Johnson
147. John Riddle
148. John Trice
149. Jim Robinson
150. Dick Kryhoski
151. Alex Grammas
152. Mike Blyzka
153. "Rube" Walker
154. Mike Fornieles
155. Bob Kennedy
156. Joe Coleman
157. Don Lenhardt
158. "Peanuts" Lowrey
159. Dave Philley
160. "Red" Kress
161. John Hetki
162. Herman Wehmeier
163. Frank House
164. Stu Miller
165. Jim Pendleton
166. Johnny Podres
167. Don Lund
168. Morrie Martin
169. Jim Hughes
170. Jim Rhodes
171. Leo Kiely
172. Hal Brown
173. Jack Harshman
174. Tom Qualters
175. Frank Leja
176. Bob Keely
177. Bob Milliken
178. Bill Gylnn
179. Gair Allie
180. Wes Westrum
181. Mel Roach
182. Chuck Harmon
183. Earle Combs
184. Ed Bailey
185. Chuck Stobbs
186. Karl Olson
187. "Heinie" Manush
188. Dave Jolly
189. Bob Ross
190. Ray Herbert
191. Dick Schofield
192. "Cot" Deal
193. Johnny Hopp
194. Bill Sarni
195. Bill Consolo
196. Stan Jok
197. "Schoolboy" Rowe
198. Carl Sawatski
199. "Rocky" Nelson
200. Larry Jansen
201. Al Kaline
202. Bob Purkey
203. Harry Brecheen
204. Angel Scull
205. Johnny Sain
206. Ray Crone
207. Tom Oliver
208. Grady Hatton
209. Charlie Thompson
210. Bob Buhl
211. Don Hoak
212. Mickey Micelotta
213. John Fitzpatrick
214. Arnold Portocarrero
215. Ed McGhee
216. Al Sima
217. Paul Schreiber
218. Fred Marsh
219. Charlie Kress
220. Ruben Gomez
221. Dick Brodowski
222. Bill Wilson
223. Joe Haynes
224. Dick Weik
225. Don Liddle
226. Jehosie Heard
227. Buster Mills
228. Gene Hermanski
229. Bob Talbot
230. Bob Kuzava
231. Roy Smalley
232. Lou Limmer
233. Augie Galan
234. Jerry Lynch
235. Vern Law
236. Paul Penson
237. Mike Ryba
238. Al Aber
239. Bill Skowron
240. Sam Mele
241. Bob Miller
242. Curt Roberts
243. Ray Blades
244. Leroy Wheat
245. Roy Sievers
246. Howie Fox
247. Eddie Mayo
248. Hal Smith
249. Wilmer Mizell
250. Ted Williams

---
Return to Home Page