1952 Berk Ross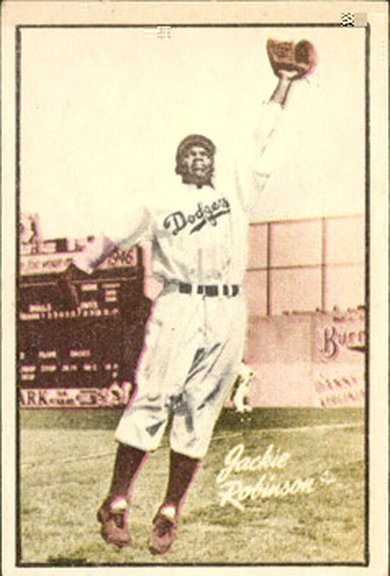 Jackie Robinson
---
Berk Ross followed up its 1951 issue with another 72-card set that featured a similar design -- front and back -- in 1952. However, the cards were larger, unnumbered and issued individually (rather than in two-card panels). Finally, instead of featuring stars from different sports as in 1951, this set is devoted entirely to baseball players.
The design of the 1952 Berk Ross is essentially the same as in 1951: a hand-painted photo of a player appears on the card front, framed by a white border. Backs are also similar in that they feature the player's name, position, team, personal info and one line of statistics from the previous season. A headline at the top announces "Hit Parade of Champions". Cards measure 2" by 3".
Key cards here are those of Joe DiMaggio and Ted Williams (neither of whom appear in Topps or Bowman sets in 1952), Mickey Mantle and Willie Mays. Phil Rizzuto appears in the set twice. There are some uncorrected errors in this set. Ewell Blackwell and Nelson Fox have their backs switched, so that Fox appears with a Blackwell back and vice versa. This error was never corrected, so there is no resulting added value attached to either card.
Many player photos -- including Mickey Mantle's -- are the same ones that appeared on 1951 Bowman cards. However, placing cards from each set side-to-side will show a big difference. While Boman's cards are bright and vivid, Berk Ross's were tinted and appear duller.
This was the second and final Berk Ross issue. Neither set seems to have been seriously intended to challenge Bowman's baseball card market, which may explain why they are not seen very often and why collectors today are not overly excited about them. Here is an interesting perspective: in the same two years that Berk Ross issued cards, another company (Topps) directly challenged Bowman's superiority and had succeeded so well that by 1953, Bowman was making their cards better. However, in that same time span, Berk Ross both set up shop and died in the marketplace. This would probably make for a decent MBA thesis.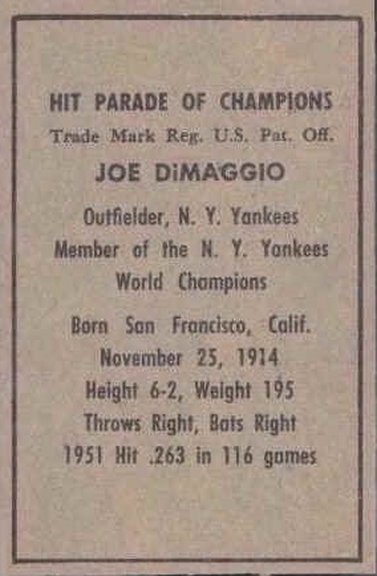 Joe DiMaggio (Back)
Comments, corrections or suggestions? email me
Are you looking to buy a card from this set? Click here and Ask Marty!
---
1952 Berk Ross

(1) Richie Asburn
(2) Hank Bauer
(3) Larry "Yogi" Berra
(4) Ewell Blackwell (phot actually Nelson Fox)
(5) Bobby Brown
(6) Jim Busby
(7) Roy Campanella
(8) Chico Carrasquel
(9) Jerry Coleman
(10) Joe collins
(11) Alvin Dark
(12) Dom DiMaggio
(13) Joe DiMaggio
(14) Larry Doby
(15) Bobby Doerr
(16) Bob Elliot
(17) Del Ennis
(18) Ferris Fain
(19) Bob Feller
(20) Nelson Fox (photo actually Ewell Blackwell)
(21) Ned Garver
(22) Clint Hartung
(23) Jim Hearn
(24) Gil Hodges
(25) Monte Irvin
(26) Larry Jansen
(27) George Kell
(28) Sheldon Jones
(29) Monte Kennedy
(30) Ralph Kiner
(31) Dave Koslo
(32) Bob Kuzava
(33) Bob Lemon
(34) Whitey Lockman
(35) Eddie Lopat
(36) Sal Maglie
(37) Mickey Mantle
(38) Billy Martin
(39) Willie Mays
(40) Gil McDougal
(41) Orestes Minoso
(42) Johnny Mize
(43) Tom Morgan
(44) Don Mueller
(45) Stan Musial
(46) Don Newcombe
(47) Ray Noble
(48) Joe Ostrowski
(49) Mel Parnell
(50) Vic Raschi
(51) Pee Wee Reese
(52) Allie Reynolds
(53) Bill Rigney
(54) Phil Rizzuto (bunting)
(55) Phil Rizzuto (swinging)
(56) Robin Roberts
(57) Eddie Robinson
(58) Jackie Robinson
(59) Elwin "Preacher" Roe
(60) Johnny Sain
(61) Albert "Red" Schoendienst
(62) Duke Snider
(63) George Spencer
(64) Eddie Stanky
(65) Henry Thompson
(66) Bobby Thomson
(67) Vic Wertz
(68) Waldon Westlake
(69) Wes Westrum
(70) Ted Williams
(71) Gene Woodling
(72) Gus Zernial

---
Return to Home Page