1949 Bowman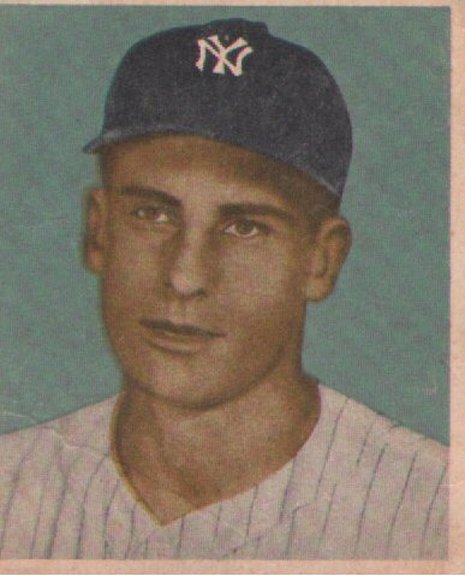 Card #87 - Randy Gumpert
---
In 1949, Bowman increased the size of its set to 240 numbered cards, making this much larger than the company's 1948 effort. Card fronts have colorized black and white photos (similar to the ones used the previous year), but the backgrounds have been overprinted with various solid colors: earlier series feature brighter colors, while later series sport pastel colors. Beginning with card #109, Bowman inserted player names on card fronts as well.
Card backs are also similar to those from 1948, with a printed summary of the player's season highlights and a line of biographical information. There is an added advertisement that allowed the card's owner to send in card wrappers for an item (such as a bank or a baseball). An improvement over the previous year had a second ink color on the backs: the player's name and redemption offer were both printed in red, while everything else was in black. Some card backs have the player's name printed, and others have the name in script. Cards numbered 1-3 and 5-73 can be found with either white or grey backs. Twelve cards that were printed along with the final series (see checklist below) feature either a front or back name variation. Adding to the many variations in the set, certain cards from #1-108 are found with the player's name on the front because they were also printed along with the later series.
Cards 145 to 250 were printed in smaller quantities towards the close of the baseball season; they are therefore scarcer and more valuable than the earlier series. Notable rookies in this set include Duke Snider, Robin Roberts, Roy Campanella, Larry Doby, and in the scarce high number series, Richie Ashburn and Satchell Paige. The high numbers' scarcity and number (there are 96 of them) make this set quite expensive for collectors.
A hobby legend has grown around card #4 of Jerry Priddy. When Bowman printed its 1948-52 sets, they used sheets of 36 cards. In 1949, while printing the sheets for its first series, Priddy's card was purposely replaced with that of #73, Billy Cox. This was most likely a ploy to get kids to buy more gum in search of the elusive card #4 (but not nearly as obvious as the skip-numbering trick Leaf used the same year). Later in the season, when Bowman issued its new series (74-144), card #4 finally made its way into circulation.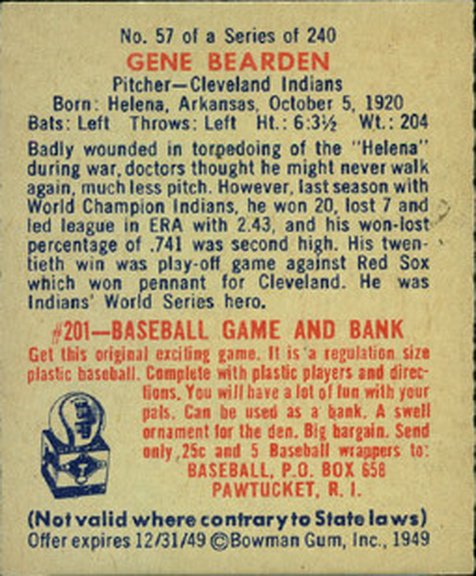 Card #57 - Gene Bearden (Back)
Comments, corrections or suggestions? email me
Are you looking to buy a card from this set? Click here and Ask Marty!
---
1949 Bowman:

1. Vernon Bickford
2. Carroll "Whitey" Lockman
3. Bob Porterfield
4a. Jerry Priddy (no name on front)
4b. Jerry Priddy (name on front)
5. Hank Sauer
6. Phil Cavaretta
7. Joe Dobson
8. Murry Dickson
9. Ferris Fain
10. Ted Gray
11. Lou Boudreau
12. Cass Michaels
13. Bob Chesnes
14. Curt Simmons
15. Ned Garver
16. Al Kozar
17. Earl Torgeson
18. Bobby Thompson
19. Bobby Brown
20. Gene Hermanski
21. Frank Baumholtz
22. Harry "P-Nuts" Lowrey
23. Bobby Doerr
24. Stan Musial
25. Carl Scheib
26. George Kell
27. Bob Feller
28. Don Kolloway
29. Ralph Kiner
30. Andy Seminick
31. Dick Kokos
32. Eddie Yost
33. Warren Spahn
34. Dave Koslo
35. Vic Raschi
36. Harold "Pee Wee" Reese
37. John Wyrostek
38. Emil "The Antelope" Verban
39. Bill Goodman
40. George "Red" Munger
41. Lou Brissie
42. Walter "Hoot" Evers
43. Dale Mitchell
44. Dave Philley
45. Wally Westlake
46. Robin Roberts
47. Johnny Sain
48. Willard Marshall
49. Frank Shea
50. Jackie Robinson
51. Herman Wehmeier
52. Johnny Schmitz
53. Jack Kramer
54. Marty "Slats" Marion
55. Eddie Joost
56. Pat Mullin
57. Gene Bearden
58. Bob Elliott
59. Jack "Lucky" Lohrke
60. Larry "Yogi" Berra
61. Rex Barney
62. Grady Hatton
63. Andy Pafko
64. Dom "The Little Professor" DiMaggio
65. Enos "Country" Slaughter
66. Elmer Valo
67. Alvin Dark
68. Sheldon "Available" Jones
69. Tommy "The Clutch" Henrich
70. Carl Furillo
71. Vern "Junior" Stephens
72. Tommy Holmes
73. Billy Cox
74. Tom McBride
75. Eddie Mayo
76. Bill Nicholson
77. Ernie (Jumbo and Tiny) Bonham
78a. Sam Zoldak (No name on front)
78b. Sam Zoldak (Name on front)
79. Ron Northey
80. Bill McCahan
81. Virgil "Red" Stallcup
82. Joe Page
83a. Bob Scheffing (No name on front)
83b. Bob Scheffing (Name on front)
84. Roy Campanella
85a. Johnny "Big John" Mize (No name on front)
85b. Johnny "Big John" Mize (Name on front)
86. Johnny Pesky
87. Randy Gumpert
88a. Bill Salkeld (No name on front)
88b. Bill Salkeld (Name on front)
89. Mizell "Whitey" Platt
90. Gil Coan
91. Dick Wakefield
92. Willie "Puddin-Head" Jones
93. Ed Stevens
94. James "Mickey" Vernon
95. Howie Pollett
96. Taft Wright
97. Danny Litwhiler
98a. Phil Rizzuto (No name on front)
98b. Phil Rizzuto (Name on front)
99. Frank Gustine
100. Gil Hodges
101. Sid Gordon
102. Stan Spence
103. Joe Tipton
104. Ed Stanky
105. Bill Kennedy
106. Jake Early
107. Eddie Lake
108. Ken Heintzelman
109a. Ed Fitzgerald (No name on front)
109b. Ed Fitzgerald (Name on front)
110. Early Wynn
111. Al "Red" Shoendienst
112. Sam Chapman
113. Ray Lamanno
114. Allie Reynolds
115. Emil "Dutch" Leonard
116. Joe Hatten
117. Walker Cooper
118. Sam Mele
119. Floyd Baker
120. Cliff Fannin
121. Mark Christman
122. George Vico
123. Johnny Blatnick
124a. Danny Murtaugh (Script name on back)
124b. Danny Murtaugh (Printed name on back)
125. Ken Keltner
126a. Al Brazile (Script name on back)
126b. Al Brazile (Printed name on back)
127a. Henry "Hank" Majeski (Script name on back)
127b. Henry "Hank" Majeski (Printed name on back)
128. Johnny Vander Meer
129. Bill "The Bull" Johnson
130. Harry "The Hat" Walker
131. Paul Lehner
132a. Al Evans (Script name on back)
132b. Al Evans (Printed name on back)
133. Aaron Robinson
134. Hank Borowy
135. Stan Rojek
136. Henry "Hank" Edwards
137. Ted Wilks
138. Warren "Buddy" Rosar
139. Hank "Bow-Wow" Arft
140. Rae Scarbrough
141. Ulysses "Tony" Lupien
142. Eddie Waitkus
143a. Bob Dillinger (Script name on back)
143b. Bob Dillinger (Printed name on back)
144. Milton "Mickey" Haefner
145. Sylvester "Blix" Donnely
146. Myron "Mike" McCormick
147. Elmer "Bert" Singleton
148. Bob Swift
149. Roy Partee
150. Alfred "Allie" Clark
151. Maurice "Mickey" Harris
152. Calrence Maddern
153. Phil Masi
154. Clint Hartung
155. Fermin "Mickey" Guerra
156. Al "Zeke" Zarilla
157. Walt Masterson
158. Harry "The Cat" Brecheen
159. Glen Moulder
160. Jim Blackburn
161. John "Jocko" Thompson
162. Elwin "Preacher" Roe
163. Clyde McCullough
164. Vic Wertz
165. George "Snuffy" Stirnweiss
166. Mike Tresh
167. Boris "Babe" Martin
168. Doyle Lade
169. Jeff Heath
170. Bill Rigney
171. Dick Fowler
172. Eddie Pellagrini
173. Eddie Stewart
174. Terry Moore
175. Luke Appling
176. Ken Raffensberger
177. Stan Lopata
178. Tommy Brown
179. Hugh Casey
180. Connie Berry
181. Gus Niarhos
182. Hal Peck
183. Lou Stringer
184. Bob Chipman
185. Pete Reiser
186. John "Buddy" Kerr
187. Phil Marchildon
188. Karl Drews
189. Earl Wooten
190. Jim Hearn
191. Joe Haynes
192. Harry Gumbert
193. Ken Trinkle
194. Ralph Branca
195. Eddie Bockman
196. Fred Hutchinson
197. Johnny Lindell
198. Steve Gromek
199. Cecil "Tex" Hughson
200. Jess Dobernic
201. Sibby Sisti
202. Larry Jansen
203. Barney McCosky
204. Bob Savage
205. Dick Sisler
206. Bruce Edwards
207. Johnny "Hippity" Hopp
208. Paul "Dizzy" Trout
209. Charlie "King Kong" Keller
210. Joe "Flash" Gordon
211. Dave "Boo" Ferris
212. Ralph Hamner
213. Charles "Red" Barrett
214. Richie Ashburn
215. Kirby Higbe
216. Lynwood "Schoolboy" Rowe
217. Marino Pieretti
218. Dick Kryhoski
219. Virgil "Fire" Trucks
220. Johnny McCarthy
221. Bob Muncrief
222. Alex Kellner
223. Bob Hoffman
224. Leroy "Satchel" Paige
225. Gerry Coleman
226. Edwin "Duke" Snider
227. Fritz Ostermeuller
228. Jackie Mayo
229. Ed Lopat
230. Augie Galan
231. Earl Johnson
232. George McQuinn
233. Larry Doby
234. Truett "Rip" Sewell
235. Jim Russell
236. Fred Sanford
237. Monte Kennedy
238. Bob Lemon
239. Frank McCormack
240. Norman "Babe" Young

---
Return to Home Page