1948 Bowman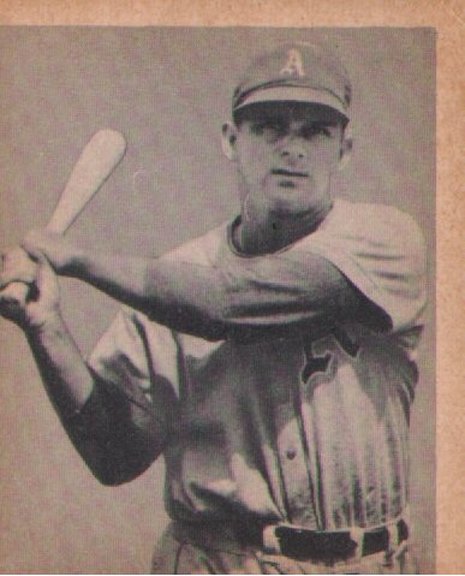 Card #25 - Barney McCoskey
---
Baseball and sports card collectors refer to certain "eras" in hobby history. There were major eras in the late 1800, the 1909-'12 boom and short bursts from 1933-'36 and '39-'41. Usually, economic forces were behind the sunset of an era; however, after 1941 it was World War Two that halted card issues. Once the war was over, the major league ballplayers who had been fighting returned from the service, and paper stock was no longer needed for the war effort. By 1947, a few local card issues were released, but it was only a matter of time before a baseball card set was issued nationwide. When those cards arrived, they ushered in a new era of hobby history, known as the "Postwar" era.

The Bowman Gum Company of Philadelphia (formerly Gum, Inc.) released its first major set in 1948. By today's standards, the set does not seem like much; there are relatively few cards (48 in all), the pictures are black and white, and they are pretty small (2 and 1/16" by 2 and 1/2"). Nevertheless, the 1948 Bowman set is significant in that, as the first major, nationally-issued baseball card set since 1941, it certainly has its fair share of rookie cards for such a small set. Legends such as Yogi Berra, Stan Musial, Phil Rizzuto, and Warren Spahn make their first appearance here, as well as others.

The card fronts are simple: a black and white photo and nothing else. There is no player name or position, not a mention of what team he plays for, just a white border around a picture. Those borders are often hard to find centered as a result of the factory cutting process. Card backs are also fairly simple, with black ink on grey stock. They feature the player's name, team and position, some biographical information, a brief write-up, and an advertisement at the bottom. In a way, these cards were reminiscent of smaller versions of 1939 Play Ball cards, made by the same company in its earlier incarnation.

There are two series in this set. Initially, the first series contained cards 1-36, as the sheets produced at the factory could hold 36 cards. Instead of making 36 more cards for series 2, they simply printed up 12 different cards (numbers 37-48), and replaced 12 of the cards from the first series on the sheet. As a result, those cards that were short-printed (including the Rizzuto rookie) are harder to find.

Though overlooked by hobbyists because of its small size and lack of color, this is a historically significant set. 1948 marks the first year of an era where at least one new set appeared each year, a streak that still runs today. In the modern hobby, collectors break down history into two main eras: prewar (which encompasses all the eras through 1941) and postwar. 1948 Bowman is considered the first set of the postwar era.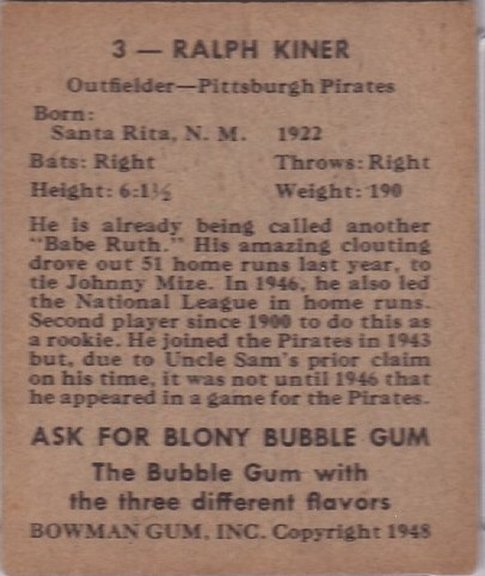 Card #3 - Ralph Kiner (Back)
Comments, corrections or suggestions? email me
Are you looking to buy a card from this set? Click here and Ask Marty!
---
1948 Bowman:

1. Bob Elliot
2. Ewell (The Whip) Blackwell
3. Ralph Kiner
4. Johnny Mize
5. Bob Feller
6. Larry (Yogi) Berra
7. Pete(Pistol Pete) Reiser
8. Phil (Scooter) Rizzuto
9. Walker Cooper
10. Buddy Rosar
11. Johnny Lindell
12. Johnny Sain
13. Willard Marshall
14. Allie Reynolds
15. Eddie Joost
16. Jack Lohrke
17. Enos (Country) Slaughter
18. Warren Spahn
19. Tommy (The Clutch) Henrich
20. Buddy Kerr
21. Ferris Fain
22. Floyd (Bill) Bevins
23. Larry Jansen
24. Emil (Dutch) Leonard
25. Barney McCoskey
26. Frank Shea
27. Sid Gordon
28. Emil (The Antelope) Verban
29. Joe Page
30. "Whitey" Lockman
31. Bill McCahan
32. Bill Rigney
33. Bill (The Bull) Johnson
34. Sheldon (Available) Jones
35. George (Snuffy) Stirnweiss
36. Stan Musial
37. Clint Hartung
38. Al "Red" Schoendienst
39. Augie Galan
40. Marty Marion
41. Rex Barney
42. Ray Poat
43. Bruce Edwards
44. Johnny Wyrostek
45. Hank Sauer
46. Herman Wehmeier
47. Bobby Thompson
48. George "Dave" Koslo

---
Return to Home Page