1941 Play Ball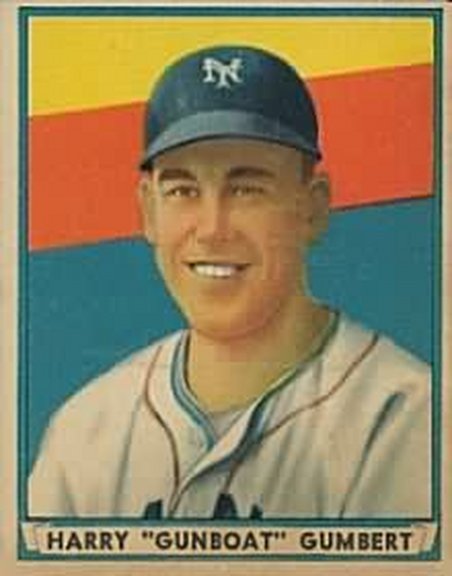 Card #26 - Harry Gumbert
---
This set was the last of the run of "Play Ball" sets issued by Gum, Inc. before the second World War halted production of new baseball card sets for seven years. This was a smaller set than either the 1939 or 1940 Play Ball issues, having only 72 total cards.
Just as they had done in 1940, Gum, Inc. improved upon their previous design. The 1941 Play Ball set was, in some ways, a colorized version of its 1940 set but without the baseball gear. Many of the players' cards featured the same picture shown on their 1940 cards, only with color added. Beneath the picture, there was a banner with the player's name (often with his nickname in quotes) that stretched across the card. The card backs, like all Play Ball issues, featured a lengthy biography; there is no copyright date, however. At the very bottom of most cards in the set is a caption: "Watch for other famous sports stars, famous fighters, tennis players, football heroes, etc. in this series." The set seems to have been intended as part of a larger "Sports Hall of Fame" set, but the other cards never surfaced. The cards that are missing that caption feature an advertisement for Blony gum.
Having color on the cards wasn't the only thing that makes these cards stand out, it's the way that color was used: backgrounds are vivid and sometimes multi-colored, shadows and perspective are shown. For some, the look was too much like comic book art and just needed the captions of 1938 Goudeys, for others, it was the best work on cards since the Art Deco that marked Diamond Stars cards in the mid 1930s. In any case, it was bold.
The key cards in this issue feature Ted Williams and Joe DiMaggio, both of whom had a memorable season in 1941 (DiMaggio had a record 56-game hitting streak and Williams batted .406; no other player has since reached .400). This set is notable as the only issue featuring all three DiMaggio brothers, and a rookie-year card of Hall of Fame shortstop Pee Wee Reese can be found here as well. Of the three Play Ball sets, this one is probably the easiest to complete due to its small size.
This would be the last major baseball card set for the next seven years, as card production was halted when the United States entered World War II. Not only were the paper, cardboard, and printing supplies were needed for the war effort, so were the players; DiMaggio, Williams, Charley Gehringer, Bob Feller, Pee Wee Reese, and many other players left the league and joined the military to do their part. By 1948, Gum, Inc. (which by that time would be renamed Bowman) would begin a new era of collectible baseball cards.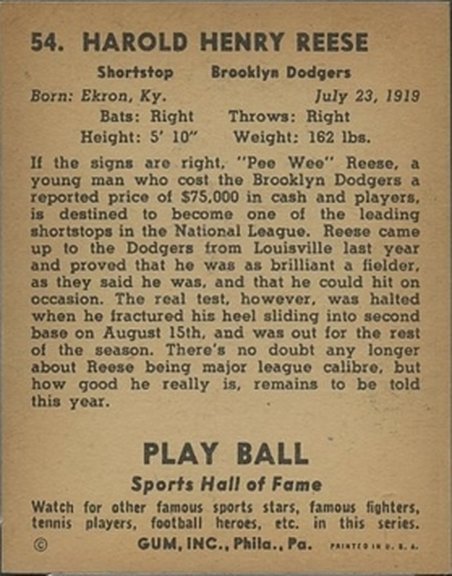 Card #54 - Harold "Pee Wee" Reese (Back)
---
Comments, corrections or suggestions? email me
Are you looking to buy a card from this set? Click here and Ask Marty!
---
| | | |
| --- | --- | --- |
| | | |
| 1941 Play Ball Green Wrapper | 1941 Play Ball Orange Wrapper | 1941 Play Ball Red Wrapper |
1941 Play Ball:

1. "Eddie" Miller
2. Max West
3. "Bucky" Walters
4. "Duke" Derringer
5. "Buck" McCormick
6. Carl Hubbell
7. "The Horse" Danning
8. "Mel" Ott
9. "Pinky" May
10. "Arky" Vaughn
11. Debs Garms
12. "Jimmy" Brown
13. "Jimmie" Foxx
14. "Ted" Williams
15. "Joe" Cronin
16. "Hal" Trotsky
17. "Stormy" Weatherly
18. "Hank" Greengerg
19. "Charley" Gehringer
20. "Red" Ruffing
21. "Charlie" Keller
22. "Indian Bob" Johnson
23. "Mac" McQuinn
24. "Dutch" Leonard
25. "Gene" Moore
26. Harry "Gunboat" Gumbert
27. "Babe" Young
28. "Joe" Marty
29. "Jack" Wilson
30. "Lou" Finney
31. "Joe" Kuhel
32. Taft Wright
33. "Happy" Milnar
34. "Rollie" Hemsley
35. "Pinky" Higgins
36. Barney McCosky
37. "Soupy" Campbell
38. Atley Donald
39. "Tommy" Henrich
40. "Johnny" Babich
41. Frank "Blimp" Hayes
42. "Wally" Moses
43. Albert "Bronk" Brancato
44. "Sam" Chapman
45. Elden Auker
46. "Sid" Hudson
47. "Buddy" Lewis
48. Cecil Travis
49. "Babe" Dahlgren
50. "Johnny" Cooney
51. "Dolph" Camilli
52. Kirby Higbe
53. Luke "Hot Potato" Hamlin
54. "Pee Wee" Reese
55. "Whit" Wyatt
56. "Vandy" Vander Meer
57. "Moe" Arnovich
58. "Frank" Demaree
59. "Bill" Jurges
60. "Chuck" Klein
61. "Vince" DiMaggio
62. "Elbie" Fletcher
63. "Dom" DiMaggio
64. "Bobby" Doerr
65. "Tommy" Bridges
66. Harland Clift
67. "Walt" Judnich
68. "Jack" Knott
69. George Case
70. "Bill" Dickey
71. "Joe" DiMaggio
72. "Lefty" Gomez

---
Return to Home Page