1941 Goudey
| | | | |
| --- | --- | --- | --- |
| | | | |
| Card #16 - Green Background | Card #16 - Red Background | Card #16 - Blue Background | Card #16 - Yellow Background |
---
At the time, 1941 was a great year for baseball cards. Collectors -- for the first time in years -- had a larger selection to choose from, with Gum Inc.'s Play Ball set, the Double Play set and this final effort by Goudey (its first in three years). It was also a tremendous year for Major League Baseball, with Joe DiMaggio hitting safely in 56 consecutive games and Ted Williams hitting .406 to win the American League batting crown.
The connection between the 1941 baseball season and the 1941 Goudey set probably explains why this set would prove to be Goudey's last: Ted Williams and Joe DiMaggio -- arguably the two best players that year -- show up in the other national sets that year, but nowhere in this set. As 1941 came to an end and the United States entered World War II, many of the supplies used for the manufacture of both baseball cards and chewing gum would be needed for the war. The Goudey Gum Company, long in decline, disappeared altogether from the ranks of sports card manufacturers.
Overall, the 1941 Goudey set can be fairly labeled unspectacular when compared with its competitors' sets. Of the 33 cards in the set, only two (Mel Ott and Carl Hubbell), feature Hall of Famers. On the other hand, some obscure players never had another card and are in demand by team collectors. Card fronts have a black and white player photo set against a solid background (blue, green, red or yellow). A baseball with the "Big League Gum" logo appears in the top corner, while a box along the bottom of the card contains the player's name, team, position, and the card number. Card backs are blank. Card #1 features Hugh Mulcahy and mentions at the bottom that he was the first player to be drafted into the Army.
Although each player's card can be found with any of the four background colors, the set is considered complete at 33 cards; a few collectors have ventured to complete a 1941 Goudey master set with all 132 possible card fronts. Among the background colors, yellow and green are considered to be the easiest, with blue slightly tougher and red the hardest to find. Another major concern for collectors is that many cards are found miscut and severely off-center.
There has never been a great deal of collector interest in this set. Whether that is because of the lack of star players, the inferior design or the blank backs is anybody's guess. As a result, these cards do not show up in the marketplace often, and are not easily recognized when they show up. Cards #21-25 seem to have been printed in short supply, making them scarce cards in a hard-to-find set.
---
Comments, corrections or suggestions? email me
Are you looking to buy a card from this set? Click here and Ask Marty!
---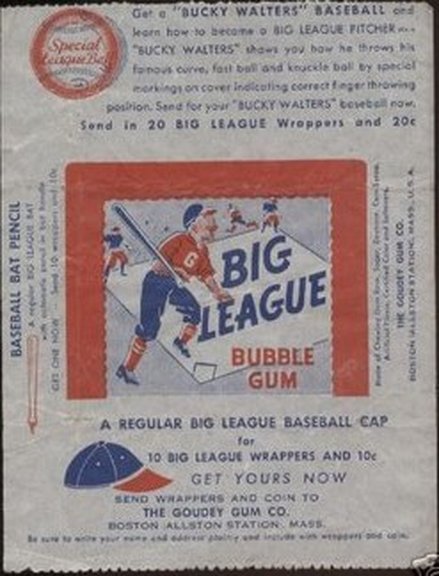 1941 Goudey Wrapper
1941 Goudey:

1. Hugh Mulcahy
2. Harlond Clift
3. Louis Chiozza
4. Warren (Buddy) Rosar
5. George McQuinn
6. Emerson Dickman
7. Wayne Ambler
8. Bob Muncrief
9. Bill Dietrich
10. Taft Wright
11. Don Heffner
12. Fritz Ostermueller
13. Frank Hayes
14. John (Jack) Kramer
15. Dario Lodigiani
16. George Case
17. Vito Tamulis
18. Whitlow Wyatt
19. Bill Posedel
20. Carl Hubbell
21. Harold Warstler
22. Joe Sullivan
23. Norman (Babe) Young
24. Stanley Andrews
25. Morris Arnovich
26. Elburt Fletcher
27. Bill Crouch
28. Al Todd
29. Debs Garms
30. Jim Tobin
31. Chester Ross
32. George Coffman
33. Mel Ott

---
Return to Home Page