1940 Play Ball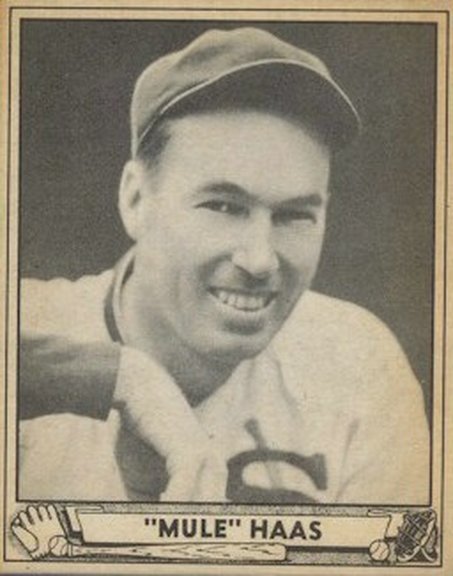 Card #184 - George Haas
---
After enjoying success with its initial effort in 1939, Gum, Inc. brought back its "Play Ball" set for 1940. Featuring more cards and a more thoughful design, the 1940 set is considered something of an improvment over the comparatively bland cards from the previous year. This time around, some of the sport's old-timers showed up, too.
While the player pictures used in this set were still black and white photos, the company improved upon its 1939 design by adding a banner featuring the player's name to the bottom of the card. A glove, bat and catcher's mask adorn the banner, and a frame was added around the player's picture. One of the more charming (or irritating, depending on the point of view) aspects of these cards is the inclusion of player nicknames. The card backs are similar to those from 1939 with extensive biographical information and similar font and printing style, except that a 1940 copyright date was added to the lower left corner and the ad copy at the bottom was changed. Also, while 1939 cards were titled "Play Ball -- America" these are simply called "Play Ball." Some cards from the high number series have ads for the forthcoming Superman Gum.
This set featured 240 cards in all, matching the size of 1933 Goudey and making up the largest of the three Play Ball sets. Some of these cards, including many of the high-numbered series (cards #181-240), feature Hall of Famers who had long since retired, like Walter Johnson, Willie Keeler, Chief Bender, and Pie Traynor. The set's key cards include Ted Williams, Joe DiMaggio and one of the retired greats, "Shoeless" Joe Jackson. Though older hobby references have pointed out that sets featuring players who had retired before the issue date don't tend to be popular with collectors, that doesn't seem to be the case here. It is the addition of these old-timers, coupled with the scarcity of the high-number series that includes many of those greats, that makes this the most sought-after and valuable of the Play Ball issues.
Card #87 - Carl Hubbell (Back)
---
Comments, corrections or suggestions? email me
Are you looking to buy a card from this set? Click here and Ask Marty!
---
1940 Play Ball:

1. Joe DiMaggio
2. "Art" Jorgens
3. "Babe" Dahlgren
4. "Tommy" Henrich
5. "Monte" Pearson
6. "Lefty" Gomez
7. "Bill" Dickey
8. "Twinkletoes" Selkirk
9. "Charley" Keller
10. "Red" Ruffing
11. "Jake" Powell
12. "Johnny" Schulte
13. "Jack" Knott
14. "Rabbit" McNair
15. George Case
16. Cecil Travis
17. "Buddy" Myer
18. "Charley" Gelbert
19. "Ken" Chase
20. "Buddy" Lewis
21. "Rick" Ferrell
22. "Sammy" West
23. "Dutch" Leonard
24. Frank "Blimp" Hayes
25. "Cherokee" Bob Johnson
26. "Wally" Moses
27. "Ted" Williams
28. "Gene" Desautels
29. "Doc" Cramer
30. "Moe" Berg
31. "Jack" Wilson
32. "Jim" Bagby
33. "Fritz" Ostermueller
34. John Peacock
35. "Joe" Heving
36. "Jim" Tabor
37. Emerson Dickman
38. "Bobby" Doerr
39. "Tom" Carey
40. "Hank" Greenberg
41. "Charley" Gehringer
42. "Bud" thomas
43. Pete Fox
44. "Dizzy" Trout
45. "Red" Kress
46. Earl Averill
47. "Old Os" Vitt
48. "Luke" Sewell
49. "Stormy Weather" Weatherly
50. "Hal" Trotsky
51. "Don" Heffner
52. Myril Hoag
53. "Mac" McQuinn
54. "Bill" trotter
55. "Slick" Coffman
56. "Eddie" Miller
57. Max West
58. "Bill" Posedel
59. "Rabbit" Warstler
60. John Cooney
61. "Tony" Cuccinello
62. "Buddy" Hassett
63. "Pete" Cascarart
64. "Van" Mungo
65. "Fitz" Fitzsimmons
66. "Babe" Phelps
67. "Whit" Wyatt
68. "Dolph" Camilli
69. "Cookie" Lavagetto
70. "Hot Potato" Hamlin
71. "Mel" Almada
72. "Chuck" Dressen
73. "Bucky" Walters
74. "Duke" Derringer
75. "Buck" McCormick
76. Lonny" Frey
77. "Bill" Hershberger
78. "Lew" Riggs
79. "Wildfire" Craft
80. "Bill" Myers
81. "Wally" Berger
82. "Hank" Gowdy
83. "Clif" Melton
84. "Jo-Jo" Moore
85. 'Hal" Schumacher
86. Harry Gumbert
87. Carl Hubbell
88. "Mel" Ott
89. "Bill" Jurges
90. Frank Demaree
91. Bob "Suitcase" Seeds
92. "Whitey" Whitehead
93. Harry "the Horse" Danning
94. "Gus" Suhr
95. "Mul" Mulcahy
96. "Heinie" Mueller
97. "Morry" Arnovich
98. "Pinky" May
99. "Syl" Johnson
100. "Hersh" Martin
101. "Del" Young
102. "Chuck" Klein
103. "Elbie" Fletcher
104. "Big Poison" Waner
105. "Little Poison" Waner
106. "Pep" Young
107. "Arky" Vaughn
108. "Johnny" Rizzo
109. "Don" Padgett
110. "Tom" Sunkel
111. "Mickey" Owen
112. "Jimmy" Brown
113. "Mort" Cooper
114. "Lon" Warneke
115. "Mike" Gonzales
116. "Al" Schacht
117. "Dolly" Stark
118. "Schoolboy" Hoyt
119. "Ol Pete" Alexander
120. Walter "Big Train" Johnson
121. Atley Donald
122. "Sandy" Sundra
123. "Hildy" Hildebrand
124. "Colonel" Combs
125. "Art" Fletcher
126. "Jake" Solters
127. "Muddy" Ruel
128. "Pete" Appleton
129. "Bucky" Harris
130. "Deerfoot" Milan
131. "Zeke" Bonura
132. Connie Mack
133. "Jimmie" Foxx
134. "Joe" Cronin
135. "Line Drive" Nelson
136. "Cotton" Pippin
137. "Bing" Miller
138. "Beau" Bell
139. Elden Auker
140. "Dick" Coffman
141. "Casey" Stengel
142. "Highpockets" Kelly
143. "Gene" Moore
144. "Joe" Vosmik
145. "Vito" Tamulis
146. "Tot" Pressnell
147. "Johnny" Hudson
148. "Hugh" Casey
149. "Pinky" Shoffner
150. "Whitey" Moore
151. Edwin Joost
152. "Jimmy" Wilson
153. "Bill" McKecknie
154. "Jumbo" Brown
155. "Ray" Hayworth
156. "Daffy" Dean
157. "Lou" Chiozza
158. "Stonewall" Jackson
159. "Pancho" Snyder
160. "Hans" Lobert
161. "Debs" Garms
162. "Joe" Bowman
163. "Spud" Davis
164. "Ray" Berres
165. "Bob" Klinger
166. "Bill" Brubaker
167. "Frankie" Frisch
168. "Honus" Wagner
169. "Gabby" Street
170. "Tris" Speaker
171. Harry Heilman
172. "Chief" Bender
173. "Larry" LaJoie
174. "Johnny" Evers
175. "Christy" Mathewson
176. "Heinie" Manush
177. Frank "Homerun" Baker
178. Max Carey
179. George Sisler
180. "Mickey" Cochrane
181. "spud" Chandler
182. "Knick" Knickerbocker
183. Marvin Breuer
184. "Mule" Haas
185. ""Joe" Kuhel
186. Taft Wright
187. "Jimmy" Dykes
188. "Joe" Krakauskas
189. "Jim" Bloodworth
190. "Charley" Berry
191. John Babich
192. "Dick" Seibert
193. "Chubby" Dean
194. "Sam" Chapman
195. "Dee" Miles
196. "Nonny" Nonnenkamp
197. "Lou" Finney
198. "Denny" Galehouse
199. "Pinky" Higgins
200. "Soupy" Campbell
201. Barney McCosky
202. "Al" Milnar
203. "Bad News" Hale
204. Harry Eisenstat
205. "Rollie" Hemsley
206. "Chet" Laabs
207. "Gus" Mancuso
208. Lee Gamble
209. "Hy" Vandenberg
210. "Bill" Lohrman
211. "Pop" Joiner
212. "Babe" Young
213. John Rucker
214. "Ken" O'Dea
215. "Johnnie" McCarthy
216. "Joe" Marty
217. Walter Beck
218. "Wally" Millies
219. "Russ" Bauers
220. Mace Brown
221. Lee Handley
222. "Max" Butcher
223. Hugh "Ee-Yah" Jennings
224. "Pie" Traynor
225. "Shoeless Joe" Jackson
226. Harry Hooper
227. "Pop" Haines
228. "Charley" Grimm
229. "Buck" Herzog
230. "Red" Faber
231. "Dolf" Luque
232. "Goose" Goslin
233. "Moose" Earnshaw
234. Frank "Husk" Chance
235. John J. McGraw
236. "Sunny Jim" Bottomley
237. "Wee Willie" Keeler
238. "Poosh 'em Up Tony" Lazzeri
239. George Uhle
240. "Bill" Atwood

---
Return to Home Page