1936 Goudey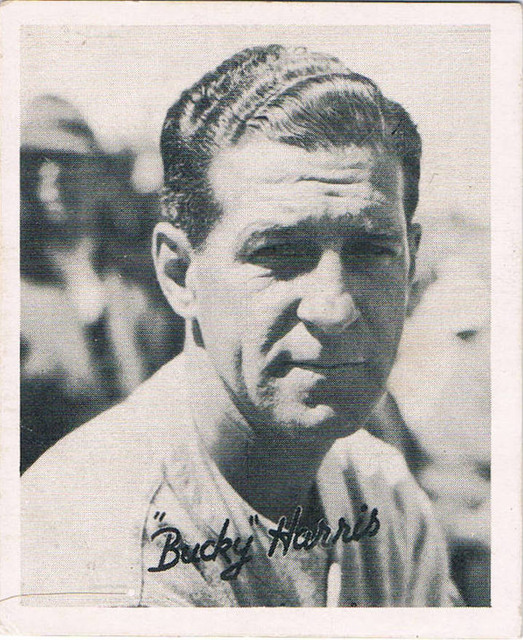 Bucky Harris
---
The United States was still trying to come out of the Great Depression in the mid- to late-1930's, and the design of baseball cards issued at the time began to show the effects. After three years of innovative and very well-designed sets, Goudey stepped back and issued its smallest set in 1936. Not only did the set contain the smallest number of cards found in any Goudey baseball set, it featured a design that may have looked foreign when compared to the brightly colored pictures found in previous years' Goudey sets. Whether this step back in design was a result of economics or from competition with National Chicle may have been lost to time; however, neither Goudey nor any other manufacturer would come out with a nationally-issued baseball card set in 1937.
Goudey's 1936 issue contained 25 unnumbered cards. Card fronts feature a black and white player photo, surrounded by a white border and adorned with a facsimile autograph (not the player's signature, as all are in the same handwriting). Card backs have a very short statistical write-up -- missing from the 1935 set, but much less than the info found on the backs of Goudey's first two sets -- along with instructions that could be used for some type of baseball game. As was the case in 1935, there are many front/back variations known to exist in this set.
There really are no "key" cards to be found in this set, even with nine Hall of Famers present in these 25 cards. Babe Ruth had retired, Joe DiMaggio was only starting out in the majors, and Lou Gehrig -- so prominent in the 1934 Goudey set -- is not featured here. However, despite this set's status as the smallest and least valuable of all the major Goudey sets, it has been overlooked (or ignored altogether) by collectors, and its relative scarcity makes it a tough set to complete.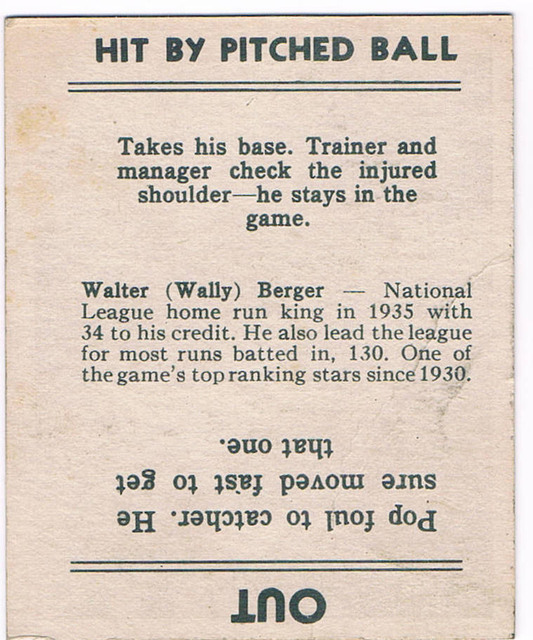 Walter Berger (Back)
---
Comments, corrections or suggestions? email me
Are you looking to buy a card from this set? Click here and Ask Marty!
---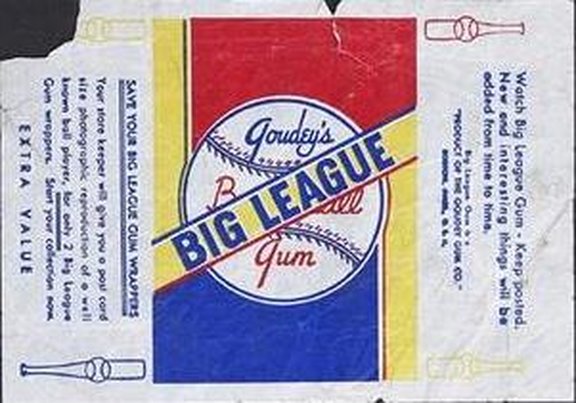 1936 Goudey Wrapper
1936 Goudey:

(1) Walter Berger
(2) Henry Bonura
(3) Stan Bordagaray
(4) Bill Brubaker
(5) Dolph Camilli
(6) Clydell Castleman
(7) "Mickey" Cochrane
(8) Joe Coscarart
(9) Frank Crosetti
(10) "Kiki" Cuyler
(11) Paul Derringer
(12) Jimmy Dykes
(13) "Rick" Ferrell
(14) "Lefty" Gomez
(15) Hank Greenberg
(16) "Bucky" Harris
(17) "Rolly" Hemsley
(18) Frank Higgins
(19) Oral Hildebrand
(20) "Chuck" Klein
(21) "Pepper" Martin
(22) "Buck" Newsom
(23) Joe Vosmik
(24) Paul Waner
(25) Bill Werber


---
Return to Home Page