1935 Goudey
| | |
| --- | --- |
| | |
| Foxx, Higgins, Mahaffey and Williams | Lucas, Thevenow, Traynor and Wright |
---
After issuing two classic baseball card sets in 1933 and 1934, Goudey came up with an odd design for its 1935 issue. Often called the "Four-in-one" set, 1935 Goudey cards feature four players from the same team on the front of each card. The "four-in-one" concept was not new; Exhibit cards had first used the format in 1929, but they were much larger cards.
The 1935 Goudey set features 36 unnumbered cards. Card fronts feature four artist's renderings of players (some of which were used in Goudey's 1933 and '34 sets) against a solid background. Near the bottom of each player's picture is his last name and team. The four players are divided by a brightly colored border (most are red, but six have a blue border instead). Unlike earlier Goudey issues, the write-up featured on the card back is gone; they are replaced by a puzzle piece.
The puzzle pieces form nine different pictures: Detroit Tigers team, Chuck Klein, Frankie Frisch, Mickey Cochrane, Joe Cronin, Jimmy Foxx, Al Simmons, Cleveland Indians team, or Washington Senators team. The interesting thing about these puzzles is that there are more puzzle pieces (72) than cards in the set (36). As a result, all cards have several different backs. This may have been designed to entice the card buyers of 1935 to buy more, but the exact reason can only be speculated. In any case, most collectors piece together their 1935 Goudey sets based on the fronts, without paying attention to which puzzle piece appears on the back. For those chasing a "master" set, there are a total of 114 different front-and-back combinations.
Out of 144 different player pictures in the set, there are actually 138 players in the set because six (Bottomley, Brandt, Cochrane, Comorosky, Kamm and Mancuso) each appear on two different cards. The key card in this set features Brandt, Maranville, McManus and Ruth, which is significant for two reasons: not only is this card the only card featuring Babe Ruth as a Boston Brave, it also marks the final appearance of "the Bambino" in a major card set before he retired. Due to the set's design, many cards feature two or three Hall of Famers, so not many of this set's cards can be considered "commons". Due to its bright borders, this set is hard to complete in any grade, and has been overlooked by many collectors.
Note: The checklist below lists players alphabetically, and not as they appeared on the card front. This is the way these cards are listed in the Standard Catalog of Baseball Cards, which I have used as a guideline in listing many of the sets featured on this website. The list is different from others that list players according to whom was on the top left of the card. By no means should this list be considered "definitive."
---
Comments, corrections or suggestions? email me
Are you looking to buy a card from this set? Click here and Ask Marty!
---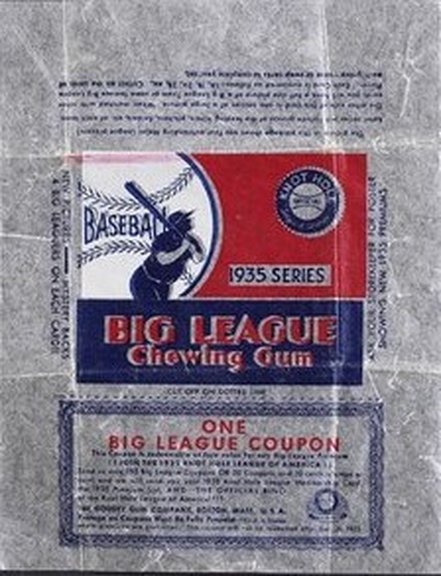 1935 Goudey Wrapper
1935 Goudey:

(1) Sparky Adams
    Jim Bottomley
    Adam Comorosky
    Tony Piett
(2) Ethan Allen
    Fred Brickell
    Bubber Jonnard
    Jimmie Wilson
(3) Johnny Allen
    Jimmie Deshong
    Red Rolfe
    Dixie Walker
(4) Luke Appling
    Jimmie Dykes
    George Earnshaw
    Luke Sewell
(5) Earl Averill
    Oral Hildebrand
    Willie Kamm
    Hal Trotsky
(6) Dick Bartell
    Hughie Critz
    Gus Mancuso
    Mel Ott
(7) Ray Benge
    Fred Fitzsimmons
    Mark Koenig
    Tom Zachary
(8) Larry Benton
    Ben Cantwell
    Flint Rhem
    Al Spohrer
(9) Charley Berry
    Bobby Burke
    Red Kress
    Dazzy Vance
(10) Max Bishop
     Bill Cissell
     Joe Cronin
     Carl Reynolds
(11) George Blaeholder
     Dick Coffman
     Oscar Melillo
     Sammy West
(12) Cy Blanton
     Babe Herman
     Tom Padden
     Gus Suhr
(13) Zeke Bonura
     Mule Haas
     Jackie Hayes
     Ted Lyons
(14) Jim Bottomley
     Adam Comorosky
     Willis Hudlin
     Glenn Myatt
(15) Ed Brandt
     Fred Frankhouse
     Shanty Hogan
     Gene Moore
(16) Ed Brandt
     Rabbit Maranville
     Marty McManus
     Babe Ruth
(17) Tommy Bridges
     Mickey Cochrane
     Charlie Gehringer
     Billy Rogell
(18) Jack Burns
     Frank Grube
     Rollie Hemsley
     Bob Weiland
(19) Guy Bush
     Waite Hoyt
     Lloyd Waner
     Paul Waner
(20) Sammy Byrd
     Danny MacFayden
     Pepper Martin
     Bob O'Farrell
(21) Billy Campbell
     Ival Goodman
     Alex Kampouris
     Billy Meyers
(22) Tex Carleton
     Dizzy Dean
     Frankie Frisch
     Ernie Orsatti
(23) Watty Clark
     Lonny Frey
     Sam Leslie
     Joe Stripp
(24) Mickey Cochrane
     Willie Kamm
     Muddy Ruel
     Al Simmons
(25) Ed Coleman
     Doc Cramer
     Bob Johnson
     Johnny Marcum
(26) General Crowder
     Goose Goslin
     Firpo Marberry
     Heinie Schuble
(27) Kiki Cuyler
     Woody English
     Burleigh Grimes
     Chuck Klein
(28) Bill Dickey
     Tony Lazzeri
     Pat Malone
     Red Ruffing
(29) Rick Ferrell
     Wes Ferrell
     Fritz Ostermuller
     Bill Werber
(30) Pete Fox
     Hank Greenberg
     Schoolboy Rowe
     Gee Walker
(31) Jimmy Foxx
     Pinky Higgins
     Roy Mahaffey
     Dib Williams
(32) Bump Hadley
     Lyn Lary
     Heinie Manush
     Monte Weaver
(33) Mel Harder
     Bill Knickerbocker
     Lefty Stewart
     Joe Vosmik
(34) Travis Jackson
     Gus Mancuso
     Hal Schumacher
     Bill Terry
(35) Joe Kuhel
     Buddy Meyer
     John Stone
     Earl Whitehill
(36) Red Lucas
     Tommy Thevenow
     Pie Traynor
     Glenn Wright

---
Return to Home Page