1934 Goudey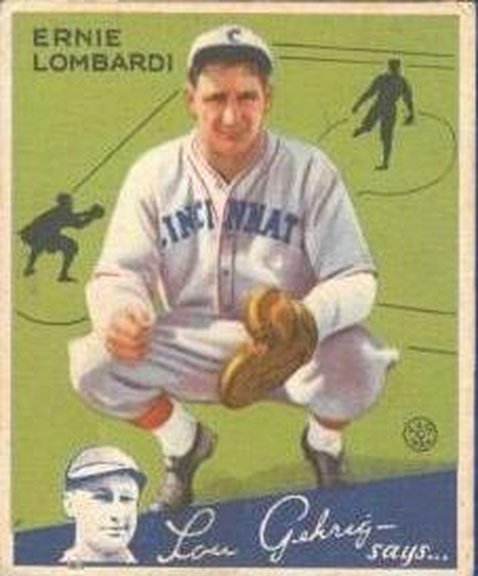 Card #35 - Ernie Lombardi
---
Although not as vast or as valuable as it predecessor (the landmark 1933 Goudey set), the 1934 Goudey set is nonetheless a classic hobby issue in it own right, with its distinctive "Lou Gehrig/Chuck Klein says..." motif. Although Babe Ruth is missing this year, there are two highly sought-after Lou Gehrig cards and plenty of Hall of Famers to be found in this set.
Gehrig (who was also featured on Goudey wrappers that year and as "president" of their Knot Hole Gang promotion) is the only player with more than one card in the set. Considering Goudey featured multiple cards of several players in '33 and four of Babe Ruth, it is curious why they scaled back. After an inaugural set consisting of 239 cards printed in several series throughout the year and a "mystery card" that was provided to people who mailed the company to a 96-card release that came in fewer series, it may have been an indication of either how deeply the Great Depression had affected the company or how much they overworked the year before. In fact, the Depression was affecting the entire industry in 1934; Goudey's '33 contemporaries Delong, Tattoo Orbit, George C. Miller and U.S Caramel didn't return with new sets and its new competitor National Chicle stretched its two sets -- Diamond Stars and Batter Up -- out over a three-year period..
Card fronts feature an artist's rendering of an actual player photograph against a solid-colored backgroud which also contains silhouettes of a baseball diamond and players in action. A Goudey copyright logo appears in a bottom corner on all cards 1-72 and is eliminated from the later series. At the bottom is a small picture of either Lou Gehrig or Chuck Klein, and a slanted field (blue for Gehrig or red for Klein), and a scripted "Lou Gehrig says..." or "Chuck Klein says...". Klein appears on cards 80-91, Gehrig on the rest.
On card backs, there is a short write-up that "appears" to have been written by Gehrig or Klein (but was more likely ghostwritten by a sportswriter), along with a signature at the end of the passage. A card number appears at the top left corner and clearly states that the card is part of the 1934 series. A Goudey copyright logo appears at the bottom corner, with an ad for Goudey's Big League chewing gum and a recommendation to collect the entire series of cards. Some design elements change as the series progress. Early series have three green lines between the biography and the Goudey ad, and later series have one green line and a rearranged location of the card number and "1934 series" statement.
Most hobby guides specify three main series: 1-48, 49-72 and 73-96. Hobbyists have debated the levels of scarcity between series. Some say that the high series is much scarcer than either of the lower ones and that the mid-level series is slightly less scarce, others claim the lower series is scarcer than hobby guides lead on.
Today, collecting the entire set of 96 cards is a bit of a challenge but is obtainable. In addition to high price tags on the two Gehrig cards, there is a very scarce high-numbered series (cards #73-96) that has frustrated many collectors. However, the cards are available enough to complete a set with due diligence.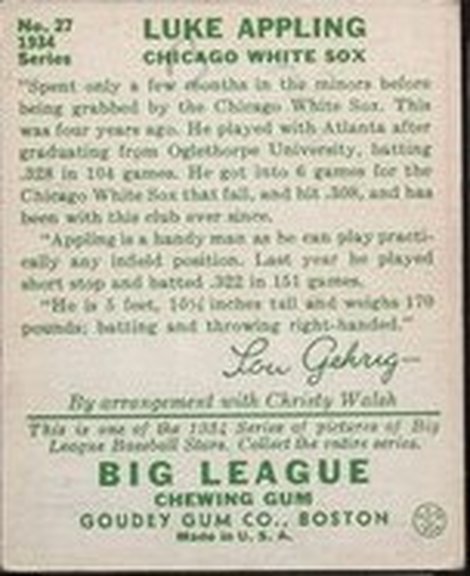 Card #22 - Luke Appling (Back)
---
Comments, corrections or suggestions? email me
Are you looking to buy a card from this set? Click here and Ask Marty!
---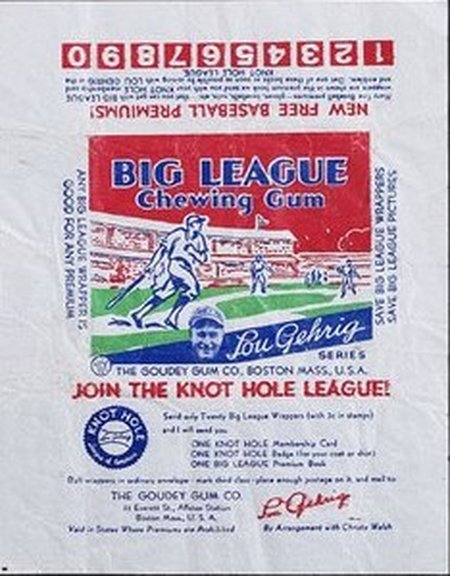 1934 Goudey Wrapper
1934 Goudey:

1. Jimmy Foxx
2. Gordon (Mickey) Cochrane
3. Charlie Grimm
4. Elwood (Woody) English
5. Ed Brandt
6. Jerome (Dizzy) Dean
7. Leo Durocher
8. Tony Piet
9. Ben Chapman
10. Charles (Chuck) Klein
11. Paul Waner
12. Carl Hubbell
13. Frank Frisch
14. Willie Kamm
15. Alvin Crowder
16. Joe Kuhel
17. Hugh Kritz
18. Henry (Heinie) Manush
19. Robert (Lefty) Grove
20. Frank Hogan
21. Bill Terry
22. Floyd Vaughan
23. Charley Gehringer
24. Ray Benge
25. Roger Cramer
26. Gerald Walker
27. Luke Appling
28. Ed Coleman
29. Larry French
30. Julius Solters
31. Baxter Jordan
32. John (Blondy) Ryan
33. Frank (Don) Hurst
34. Charles (Chick) Hafey
35. Ernie Lombardi
36. Walter (Huck) Betts
37. Lou Gehrig
38. Oral Hildebrand
39. Fred Walker
40. John Stone
41. George Earnshaw
42. John Allen
43. Dick Porter
44. Tom Bridges
45. Oscar Melillo
46. Joe Stripp
47. John Frederick
48. James (Tex) Carleton
49. Sam Leslie
50. Walter Beck
51. Jim (Rip) Collins
52. Herman Bell
53. George Watkins
54. Wesley Schulmerich
55. Ed Holley
56. Mark Koenig
57. Bill Swift
58. Earl Grace
59. Joe Mowry
60. Lynn Nelson
61. Lou Gehrig
62. Henry Greenberg
63. Minter Hayes
64. Frank Grube
65. Cliff Bolton
66. Mel Harder
67. Bob Weiland
68. Bob Johnson
69. John Marcum
70. Ervin (Pete) Fox
71. Lyle Tinning
72. Arndt Jorgens
73. Ed Wells
74. Bob Boken
75. Bill Werber
76. Hal Trotsky
77. Joe Vosmik
78. Frank (Pinkey) Higgins
79. Eddie Durham
80. Marty McManus
81. Bob Brown
82. Bill Hallahan
83. Jim Mooney
84. Paul Derringer
85. Adam Comorosky
86. Lloyd Johnson
87. George Darrow
88. Homer Peel
89. Linus Frey
90. Hazen (Ki-Ki) Cuyler
91. Dolph Camilli
92. Steve Larkin
93. Fred Ostermueller
94. Robert A. (Red) Rolfe
95. Myril Hoag
96. Jim DeShong

---
Return to Home Page