1933 Tattoo Orbit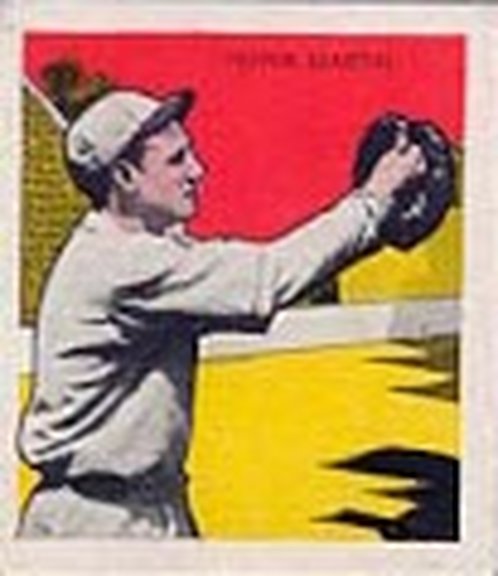 Pepper Martin
---
Among the first of the gum card sets appearing in 1933, this set was issued by the Orbit Company of Chicago, Illinois in 1-cent packages of Tattoo gum. While not very common compared to the other gum issues of 1933, many collectors have overlooked this issue or missed it entirely. Part of the problem may be that few collectors can identify the cards by looking at them; there is nothing on the card to identify the issuer.
On the card front, a black and white player photo (which has been tinted to give the player's skin a little color) is set against a vivid stadium background. The background art is unique in that it attracts the eye away from the card subject with its bright red, yellow and green coloring. The player's name is featured across the top or bottom of the card, while a white border surrounds the card. Card backs are as simple as possible: the player's name, team position, birthdate, height and weight are the only items featured. There is no card number, manufacturer's trademark or -- unlike the other gum issues -- any advertisement for the company's gum. Cards are smaller than other 1930s gum issues, measuring 2" by 2 1/2".
While cards from this set are not all that easy to locate, there are four scarce cards in this set: Irving Hadley, George Blaeholder, Ivy Andrews and Hall of Famer Rogers Hornsby. However, their relative scarcity does not translate into high card values; 1933 Tattoo Orbit cards are, for the most part, not anywhere near as expensive as Goudeys, Diamond Stars or Delongs because their low demand overrides the lessened supply.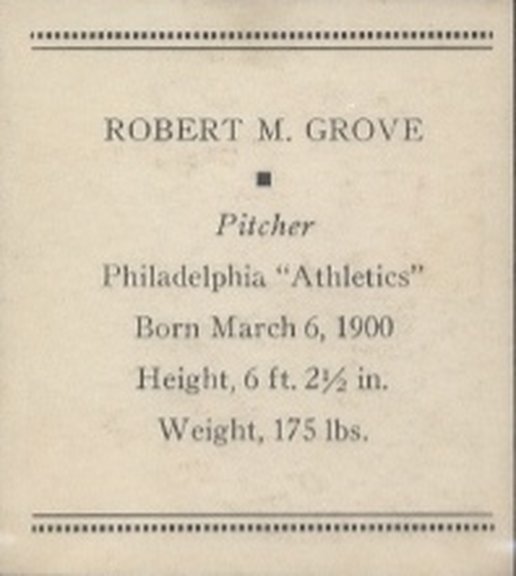 Lefty Grove (Back)
---
Comments, corrections or suggestions? email me
Are you looking to buy a card from this set? Click here and Ask Marty!
---
1933 Tattoo Orbit:

(1) Dale Alexander
(2) Paul Ivy Andrews
(3) Earl Averill
(4) Richard Bartell
(5) Walter Berger
(6) George F. Blaeholder
(7) Irving J. Burns
(8) Guy T. Bush
(9) Bruce D. Campbell
(10) William Cissell
(11) Lefty Clark
(12) Mickey Cochrane
(13) Phil Collins
(14) Hazen Kiki Cuyler
(15) Dizzy Dean
(16) Jimmy Dykes
(17) George L. Earnshaw
(18) Woody English
(19) Lewis A. Fonseca
(20) Jimmy Foxx
(21) Burleigh A. Grimes
(22) Charles John Grim
(23) Robert M. Grove
(24) Frank Grube
(25) George W. Haas
(26) Irving D. Hadley
(27) Chick Hafey
(28) Jesse Joseph Haines
(29) William Hallahan
(30) Melvin Harder
(31) Gabby Hartnett
(32) Babe Herman
(33) William Herman
(34) Rogers Hornsby
(35) Roy C. Johnson
(36) J. Smead Jolley
(37) William Jurges
(38) William Kamm
(39) Mark Koenig
(40) James J. Levey
(41) Ernie Lombardi
(42) Red Lucas
(43) Ted Lyons
(44) Connie Mack
(45) Pat Malone
(46) Pepper Martin
(47) Marty McManus
(48) Frank J. O'Doul
(49) Richard Porter
(50) Carl N. Reynolds
(51) Charles Henry Root
(52) Robert Seeds
(53) Al H. Simmons
(54) Jackson Riggs Stephenson
(55) Bud Tinning
(56) Joe Vosmik
(57) Rube Walberg
(58) Paul Waner
(59) Lonnie Warneke
(60) Arthur C. Whitney

---
Return to Home Page