1933 George C. Miller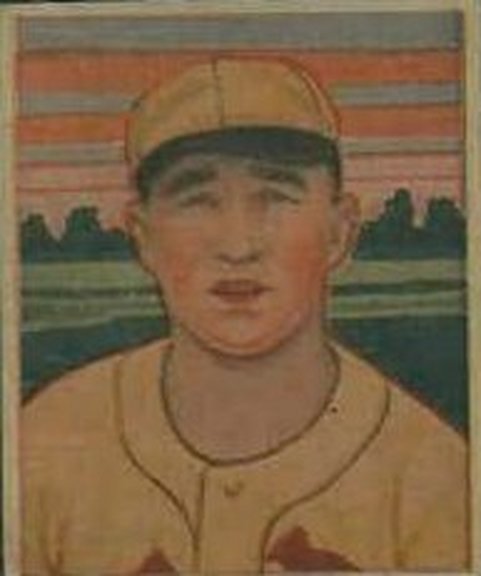 Frank Frisch
Though this set appeared with the first wave of 1930s "gum cards" it is more in line with candy and caramel issues of the 1920s, but its 1933 print date and color photos often cause collectors to forget it was issued with tofee instead of bubblegum. In some respects, this set and 1932 U.S. Caramel are the last of the E-series cards.
There are 32 cards in the set, with two players from each of the major league teams at the time. Issued by George C. Miller & Co. of Boston, Massachusetts, these cards urged collectors to complete the set and then exchange the set for a prize. Card fronts feature nothing more than an artist's rendering of the player set against a generic multi-color background. Backs feature the players' vitals (name, team, height, weight, and a short line of stats) above a set checklist. The offer of prizes in exchange for a complete set for either a glove or ball fills the bottom part of the card back.
Many of the cards that had been redeemed for prizes were canceled in one of two methods: cards were either given diamond-shaped punch holes, or had the bottom quarter of the card trimmed off. Either method of cancellation has the same result; the card is considered damaged and has a significant resulting devaluation. That said, the cards are scarce enough to fetch healthy prices when sold, even cancelled. Full size cards measure 2 1/2' by 3", making them larger than thier competitors' cards.
Most sets that feature a redemption offer on the backs have cards that are short-printed to make it difficul to complete a set, and this was no exception. In the case of 1933 George C. Miller, the card of Paul "Ivy" Andrews was deliberately limited. Today, it's one of the hobby's scarcest mainstream cards and desireable in any condition.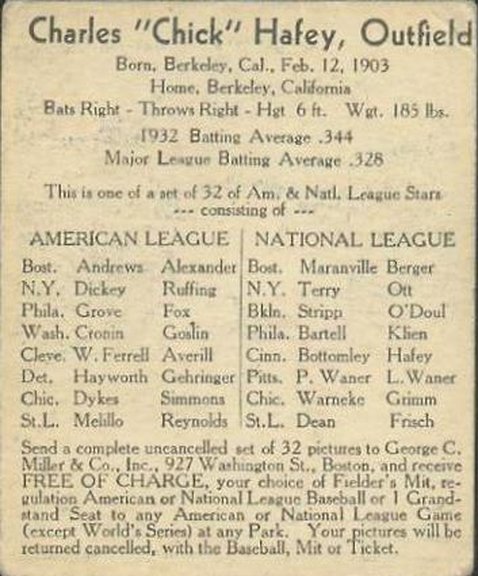 Chick Hafey (Back)
---
Comments, corrections or suggestions? email me
Are you looking to buy a card from this set? Click here and Ask Marty!
---
1933 George C. Miller:

(1) Dale Alexander
(2) "Ivy" Paul Andrews
(3) Earl Averill
(4) Dick Bartell
(5) Walter Berger
(6) Jim Bottomley
(7) Joe Cronin
(8) Jerome "Dizzy" Dean
(9) Bill Dickey
(10) Jimmy Dykes
(11) Wesley Ferrell
(12) Jimmy Foxx
(13) Frank Frisch
(14) Charlie Gehringer
(15) Leon "Goose" Goslin
(16) Charles Grimm
(17) Bob "Lefty" Gove
(18) Charles "Chick" Hafey
(19) Ray Hayworth
(20) Charles "Chuck" Klein
(21) Walter "Rabbit" Maranville
(22) Frank Mellilo
(23) Frank "Lefty" O'Doul
(24) Melvin Ott
(25) Carl Reynolds
(26) Charles Ruffing
(27) Al Simmons
(28) Joe Stripp
(29) Bill Terry
(30) Lloyd Waner
(31) Paul Waner
(32) Lonnie Warneke


---
Return to Home Page