1933 Delong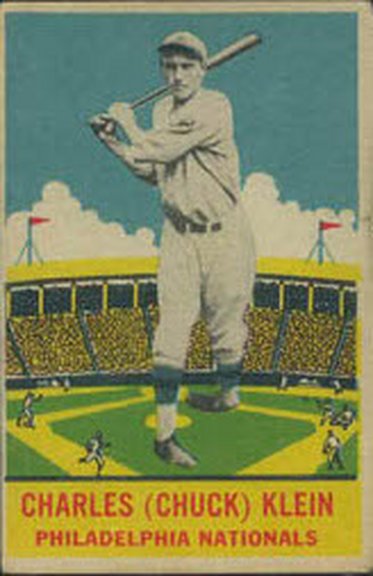 Card #22 - Chuck Klein
---
Bubblegum was invented in 1928. By the early 1930's, it was introduced to the kids of America. In order to sell the product, many gum companies remembered how kids would harangue their older relatives and neighbors for the cards that came with cigarette packages a gereation before and realized that baseball cards would seem like a natural product to sell with gum. The marriage of gum and cards was solid, as gum would be included with packs of cards for nearly 60 years afterwards. The Delong Gum Company of Boston, Massachusetts was one of the first to issue baseball cards along with gum, getting their cards on store shelves around the same time as their crosstown competitor, Goudey, in 1933. It issued its only set that year, and this 24-card set remains a highly sought-after issue.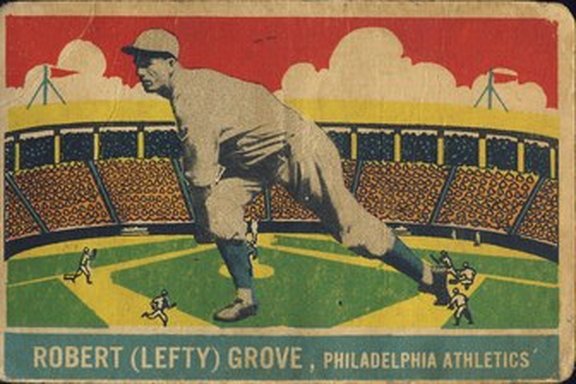 Card #23 - Lefty Grove
Though the Delong set had fewer cards than the one issued by Goudey in 1933, the cards themselves were taller. Measuring 2" by 3", the cards are slightly smaller than modern baseball cards. Card fronts feature a black and white action shot, with a miniature stadium painted around the player to give him the appearance of being very large. Most cards are vertical, but Pepper Martin and Lefty Grove are horizontal and the stadium artwork around them looks panoramic. Many collectors have called these cards the best-looking of their era, a factor that (along with the set's age and relative scarcity) has kept the values of this set quite high. Card backs contain a sports tip written by Boston Transcript baseball editor Austen Lake (who also contributed to the backs of 1934-'36 Diamond Stars) designed to make a better ballplayer out of the card's owner.
The key to this set is the card of Lou Gehrig. It is considered by many collectors to be his scarcest mainstream card. Besides the "Iron Horse", this set features some of the biggest stars of the day, and most -- 15 of the 24 players -- have been enshrined in the Baseball Hall of Fame.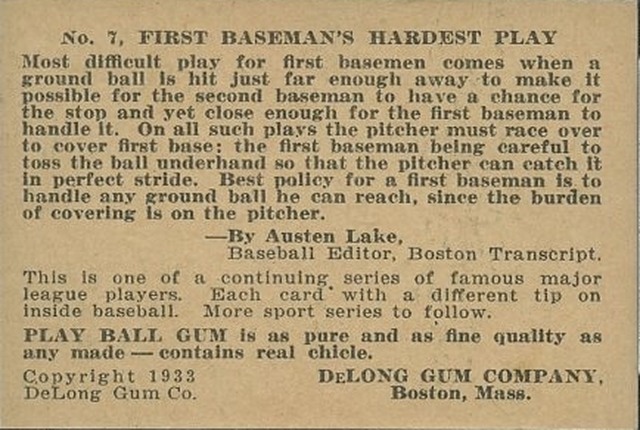 Chick Hafey (Back)
---
Comments, corrections or suggestions? email me
Are you looking to buy a card from this set? Click here and Ask Marty!
---
1933 Delong:

1. "Marty" McManus
2. Al Simmons
3. Oscar Melillo
4. William (Bill) Terry
5. Charles Gehringer
6. Gordon (Mickey) Cochrane
7. Lou Gehrig
8. Hazen S. (Kiki) Cuyler
9. Bill Urbanski
10. Frank J. (Lefty) O'Doul
11. Freddie Lindstrom
12. Harold (Pie) Traynor
13. "Rabbit" Maranville
14. Vernon "Lefty" Gomez
15. Riggs Stephenson
16. Lon Warneke
17. Pepper Martin
18. Jimmy Dykes
19. Chick Hafey
20. Joe Vosmik
21. Jimmy Foxx
22. Charles (Chuck) Klein
23. Robert (Lefty) Grove
24. "Goose" Goslin

---
Return to Home Page