1932 U.S. Caramel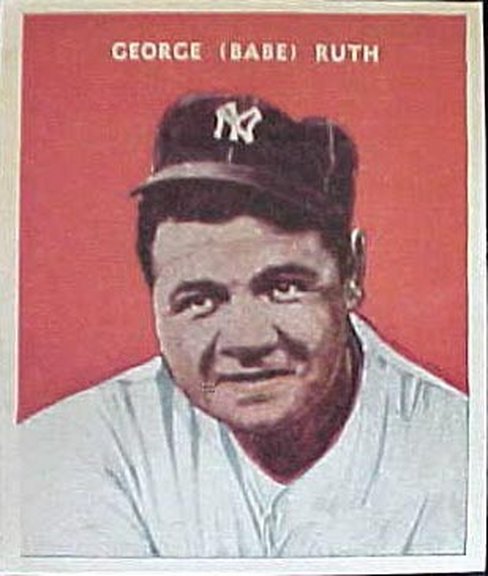 Card #32 - Babe Ruth
---
One of the last caramel baseball card issues, the 1932 U.S. Caramel set is not limited to baseball players. Produced by the U.S. Caramel company of Boston, this set of 32 "Famous Athletes" features 27 baseball players and includes one of the scarcest cards known to the hobby. Though generally seen as a "bridge" between E-series caramel cards and the R-series gum cards that began appearing in '33, U.S Caramels are more like 1930s gum cards than most E-series cards (except the 1914-'15 Cracker Jacks, which they resemble) and evidence has surfaced in the hobby that the cards were actually issued in 1933 along with the first R-series cards.
The design is fairly simple. Card fronts feature a black and white picture (usually a head shot) against a red background, with the player's name in white across the top and a white border around the card. The back of the card has the card number, along with the player's name, position and team at the top. Just beneath those items is a biography of the player. An advertisement for U.S. Caramel and redemption offer run along the bottom.
At the time of issue, these cards could be redeemed for either a baseball (for one complete set) or a fielder's glove (for three complete sets). This may account for the set's scarcity today. Card #16 of Charles Lindstrom is especially scarce, as it wasn't confirmed as part of the set until around 1987 and only a handful of specimens of the card are known to exist. The card is so scarce, the 1932 U.S. Caramel cards are considered complete without it, and it is never included in the set price in any major catalog or hobby publication.
The set's five non-baseball players are three boxers (Jack Dempsey, Gene Tunney and Jack Sharkey) and two golfers (Gene Sarazen and Bobby Jones). While baseball collectors consider the set complete without them, they present an added challenge to completing the set and are included in the set checklist below. In addition to the Lindstrom card, key cards in this set are those of Babe Ruth, Ty Cobb and Lou Gehrig. That is not to say that the other cards do not matter; almost all of the baseball players here are Hall of Famers. Because of this set's scarcity, even the "common" cards are expensive, and cards from this set do not often show up on the market.
Note: the checklist below shows only the baseball players featured in this set.
Comments, corrections or suggestions? email me
Are you looking to buy a card from this set? Click here and Ask Marty!
---
1932 U.S. Caramel:

1. Edward T. (Eddie) Collins
2. Paul (Big Poison) Waner
3. Robert T. (Bobby) Jones
4. William (Bill) Terry
5. Earl B. Combs
6. William (Bill) Dickey
7. Joseph (Joe) Cronin
8. Charles (Chick) Hafey
9. Gene Sarazen
10. Walter (Rabbit) Maranville
11. Rogers (Rajah) Hornsby
12. Gordon (Mickey) Cochrane 
13. Lloyd (Little Poison) Waner
14. Tyrus (Ty) Cobb
15. Eugene (Gene) Tunney
16. Charles (Lindy) Lindstrom
17. Al Simmons
18. Anthony (Tony) Lazzeri
19. Walter (Wally) Berger
20. Charles (Large Charlie) Ruffing
21. Charles (Chuck) Klein
22. John (Jack) Dempsey
23. James (Jimmy) Foxx
24. Frank J. (Lefty) O'Doul
25. John (Sailor Jack) Sharkey
26. Henry (Lou) Gehrig
27. Robert (Lefty) Grove
28. Edward Brant
29. George Earnshaw
30. Frank (Frankie) Frisch
31. Vernon (Lefty) Gomez
32. George (Babe) Ruth

---
Return to Home Page